About Michele Rosenthal, Author of Trauma! A PTSD Blog
When I was thirteen, I survived an illness so rare none of my New York City doctors had ever seen a case. An allergic reaction to a medication brought on a case of Toxic Epidermal Necrolysis Syndrome, which turned me into a full-body burn patient almost overnight. By the time I was released from the hospital, I had lost 100% of my epidermis.
PTSD, The Trauma of Living with Trauma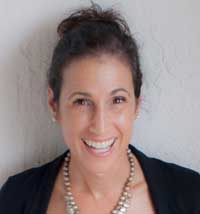 I went on to make a full physical recovery but I was not so resilient emotionally. Within a few months, I was experiencing nightmares, insomnia, anxiety, intrusive thoughts and practicing an enormous amount of avoidance just to get through the day. For the next twenty-four years, I struggled with undiagnosed PTSD, experiencing frequent mental, emotional and physical meltdowns.
Finally, I was diagnosed and got serious about recovery. Within a couple of years, I made it out of the darkness and into the light: I became 100% free of PTSD symptoms – and I've stayed that way ever since.
After my recovery, I felt so grateful I wanted to give back and help other survivors move forward toward feeling better. I founded HealMyPTSD.com, which is a site for PTSD education and support. I'm also the host of the radio show Your Life AfterTrauma and the author of the PTSD healing memoir, Before the World Intruded: Conquering the Past and Creating the Future. I work as a post-trauma coach helping survivors shed the past and frequently speak on topics about PTSD and recovery.
My goal with Trauma! A PTSD Blog is to accomplish three things:
Information – the more you know, the more you can find ways to move yourself forward
Support – the more answers and ideas you have for coping, the better you can get through each day
Suggestions – the more actual practices you learn and implement, the more you will regain control.
What does all of this mean? My hope is that this blog provides you with both a place to come for trauma and PTSD information and also a place to ask questions. We don't heal in isolation; we heal in community. Let's build a great one together.
Trauma! A PTSD Blog Welcome Video
Michele is the author of Your Life After Trauma: Powerful Practices to Reclaim Your Identity. Connect with her on Google+, LinkedIn, Facebook, Twitter and her website, HealMyPTSD.com.
APA Reference
Rosenthal, M. (2012, August 16). About Michele Rosenthal, Author of Trauma! A PTSD Blog, HealthyPlace. Retrieved on 2019, July 23 from https://www.healthyplace.com/blogs/traumaptsdblog/2012/08/about-michele-rosenthal
Author: Michele Rosenthal
@Neil -- I hate hearing about people who say, "It's all in your head" or "just get over it". PTSD is real. I admire your strength, courage and determination to keep searching for answers. There is healing to be had if you'd like to feel a release from the anxiety and shadows of the past. Some ideas here if you're interested: <a href="http://www.healmyptsd.com/treatment" rel="nofollow">http://www.healmyptsd.com/treatment</a>
The most important thing, Dixie, is to find appropriate professional help. No one heals from PTSD alone. (I discovered that the hard way through my own PTSD recovery process!) You absolutely do have the potential to overcome PTSD and move forward to a life of meaning, purpose and joy but you will need the guidance of someone who deeply understands PTSD and has the tools to walk beside you to do that. I'm a post-trauma coach specializing in PTSD. Feel free to check out my website and contact me for further discussion: http://www.healmyptsd.com
Cathy, you're carrying heaven burdens, for sure and it would only be natural that you're forgetful. The emotions of trauma and PTSD take up a lot of brain space and create a real fog that makes memory a challenge. Add to that the energy drain, sleep deprivation and a slew of other lovely PTSD issues and it's amazing we even remember our own names!

The good news is that there is help and recovery is possible. We're all individual, so we must find our own paths, but there are so many options I feel confident that you can find your way. You can find some ideas for both traditional and alternative treatment modalities here: http://healmyptsd.com/treatment
Leave a reply