How I Cope When Winter Seems to Never End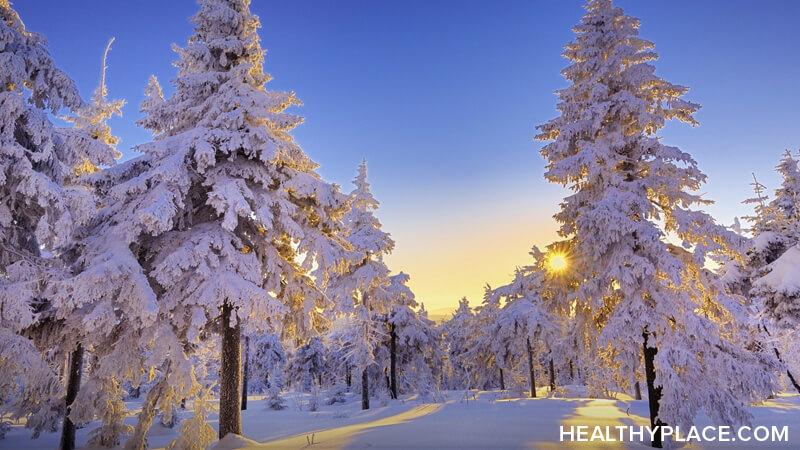 I have to know how to cope in winter to help lessen my seasonal affective disorder (SAD). By the end of February, the majority of people in the United States assume that spring is really on its way. Depending on where they live, they might get a taste of spring weather in early March. In some places, however, winter weather can seem to linger on forever. Read this article to learn about how the winter has affected my depression and what I am doing to cope.
Some Years It's Easier to Cope in Winter than Others
I am from the Northwest Suburbs of Chicago, and knowing how to cope in winter is important. I have survived many winters here, but throughout most of the season, I feel dead inside. The last month or so has been especially difficult. With the amount of snow we have had, it is sometimes hard just to get myself to look out the window. The thought of one more snowfall, even if it is just one inch, sends my anxiety into overdrive. This anxiety then turns into a deep depression ("The Line Between Anxiety and Depression"). I just long for spring. I miss going for long walks in warm weather. Even though I know that the brutal winter will eventually end, part of me contemplates what life would be like if it never happens. These thoughts make it difficult to go outside.
To cope, I am trying to use these three techniques to distract myself from the thought of an endless winter.
3 Techniques to Cope with a Harsh Winter
Exposure: I allow myself to go outside for a few minutes. Sometimes it helps to force myself to go outside for a little while. Usually, I start by reading the forecast first thing in the morning. If it is sunny and in the 30s, I force myself to bundle up and step outside for just a little while. This benefits my mindset because I find that the weather is really not that bad. By feeling the air on some sunny and slightly warmer days, I remember that not every day is as bad as I think it will be.
Reflection: I look back on harsh winters and how I coped with them. By remembering how I got through past winters, I can find more ways to get through this winter. In 2011, I attended college in DeKalb, Illinois. There, we had a terrible snow storm. This caused us to have three snow days. The campus had a snowball fight. Remembering how much fun it was to enjoy three days of no classes and a day meeting new people at the snowball fight reminded me that even snowy days can be fun.
Visualization: Imagining what spring will be like gives me something to look forward to. By creating a mental picture of a desirable spring, I can temporarily forget about this brutal winter. Sometimes it helps to look back on past springs, especially those from childhood. I imagine the upcoming spring being just as nice as those ones. I also use visualization meditation videos from YouTube. The videos with nature sounds give me a sense of spring.
To learn more about these ways to cope in winter, watch the video below.
APA Reference
Lueck, M. (2019, March 3). How I Cope When Winter Seems to Never End, HealthyPlace. Retrieved on 2023, May 28 from https://www.healthyplace.com/blogs/toughtimes/2019/3/how-i-cope-when-winter-seems-to-never-end
Author: Martha Lueck
I love coming across this read here because it just goes to show how very real this struggle is! No matter where you are, no matter what seasons you're used to living in -- surviving winters, particularly harsh ones can be hard. I love your coping tips. Particularly getting outside, because for many of us this can seem like the last thing we want to do but even just a small burst for some fresh air can be really beneficial.
Leave a reply