The Suicide Prevention Lifeline Helps Anyone with Depression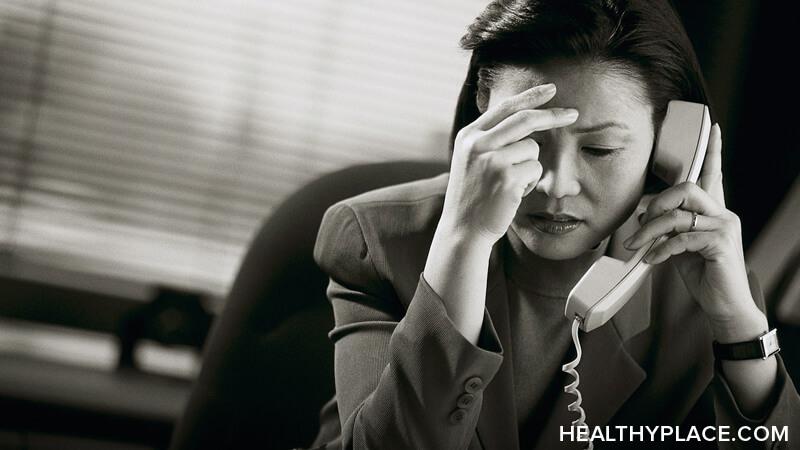 You have probably heard of the National Suicide Prevention Lifeline. What you might not know is that it is intended for anyone going through depression, even those who do not experience suicidal thoughts. The resource connects callers to local crisis centers where counselors are there to listen and provide support. Sometimes, just having someone there to listen can save a life and the National Suicide Prevention Lifeline can do that.
The Suicide Prevention Lifeline Was There for Me
I have known about the Suicide Prevention Lifeline for over a year now. Even though I knew that it was there to help people going through crises, I shied away from calling the hotline for two reasons. For one, even though I had been feeling really depressed for several months, I felt that it was not major enough to warrant immediate help. I could wait for my next therapist appointment. Also, I worried that the counselor would break confidentiality and send an ambulance to my house.
The first time I got the courage to call the hotline, I was very depressed. It was late, maybe around 3:00 a. m. on a workday. I was sitting up in my bed crying, wishing I could talk to someone about how much I hated myself and life in general. The thought of suicide crossed my mind, but I knew that it was not the answer. I needed help if I wanted to get better. At the time, a suicide prevention hotline was my only hope.
As soon as the suicide hotline volunteer answered the phone, the first thing I said was that I was not planning anything and that I would be okay; I just needed to talk to someone. Thankfully, the person on the other end said that she was there to listen. After I talked about my struggles, she said that my thoughts and feelings were understandable. We worked through my problems together and came up with a suicide prevention safety plan to help me correct my thoughts and take healthy actions. After the first call, I felt better about myself and life. I was finally able to go to sleep and wake up with a more hopeful and optimistic mindset.
My Second Call to the Suicide Prevention Hotline
A few days ago, I called the Suicide Prevention Lifeline because I felt like there was no future and I was a burden to everyone around me. Because I was unable to see a therapist due to insurance issues, it had been awhile since I had talked to a professional. Even though I had friends and family that would listen, I knew that I could only vent to them for so long. They could not solve my problems. I needed to reach out to someone who could help me learn how to help myself.
I was expecting maybe a 10-minute session that would consist of me talking most of the time and the counselor giving a few of his/her own insights. What I received, however, was a much longer and more helpful talk. The counselor stayed on the phone with me for over an hour. He was nonjudgmental and empathized with me. He mentioned meditation and self-help books. After I hung up the phone, I was excited to read one of the books he recommended. Currently, I am doing 30 minutes of daily meditation and reading the book The Power of Now: A Guide to Spiritual Enlightenment.
If you do not have anyone to talk to when you really need a listening ear, you could greatly benefit from the National Suicide Prevention Lifeline (call 1-800-273-8255 or visit SuicidePreventionLifeline.org). It is free and available 24/7.
Other Suicide Prevention Hotlines
APA Reference
Lueck, M. (2017, December 10). The Suicide Prevention Lifeline Helps Anyone with Depression, HealthyPlace. Retrieved on 2023, December 3 from https://www.healthyplace.com/blogs/toughtimes/2017/12/the-suicide-hotline-can-help-anyone-with-depression
Author: Martha Lueck
Hotlines can be helpful, if you can get through. I don't want to discourage folks, but I have found over the past 30 + years that like ER visits it is a gamble. The person may be great but they may not. Once, the volunteer tried to make me feel guilty about what my suicidal feelings were doing to my parents! (I was 22, hurt me more). I live in a huge metropolis but there are only 2 telephone crisis centres with only a couple of phone lines each. 9 times out of 10 I'll wait on hold for over 30 minutes.
This is 100% untrue! They do not help "anyone". When the 1800 number bounces to my local crisis unit, they hang up on me. They will not help you if you have a provider elsewhere, even if you cannot get ahold of said provider or the said provider further increases your distress. It may not be this way across the country, I do not, but for me, the 1800 number is a dead end, they just hang up on me.
Hi J.C.,
I am very sorry to hear that the hotline did not respond to you. :( If you do not mind me asking, where are you from? Also, have you tried the Crisis Text Line? I recently used that resource. It was very helpful.
I wish you all the best!
-Martha
Really necessary with ptsd depression and anxiety. My daily time is an issue to deal with.
Hi Elliot,
I am very sorry to hear that you struggle with PTSD, depression, and anxiety. :( I am glad that you are seeking help from the hotline, though!
How are you doing now? Have you found any good coping techniques?
-Martha
Leave a reply