The Right to Bear Arms vs. the Right to Mental Health Care
It's sad that it took the deaths of twenty children one month ago to open up the conversation about gun control in the US. It's even sadder, that as the days pass from this tragedy, the national consensus is once again heading toward minimal firearm restrictions.
The second amendment right to bear arms is getting in the way of a fundamental, universal right to attend math class without fear of getting shot in the face. It also diminishes the right to have your main teenage problem be lacking a date to the prom, and not the cold-blooded murder of all of your best friends in the cafeteria.
How Many More Need to Die?
How many more children, teachers and citizens need to lose their lives before we stand up and realize that unprecedented access to alcohol and drugs, little access to mental health care and easy access to high-powered assault rifles is a problem that needs to be addressed?
In order to properly address this issue, we need to consult our critical thinking capacities and our ability to think in logical terms.
And, it's not going to be fun.
It's going to go against everything you may have been taught to believe. But it's something you have to do. Your second amendment is causing hundreds, if not thousands, of senseless and preventable deaths, every single year.
Think Back. A Few Hundred Years
Would you visit a doctor who only used medical information available prior to 1791? Would you ask your lawyer to only use legal precedents that were available only over 200 years ago? Then why are you standing up for a right that does not take into account 21st century problems such as major mental illness, addiction, bullying, cyber-bullying and lackadaisical laws that allow pretty much anyone access to a high-powered assault weapon?
Owning a gun should be an earned privilege.
Not a right.
In order to own a gun, you should have to prove that you can handle it safely, and that you can store it safely, out of the hands of anyone else. That you have no prior criminal convictions. That you have no prior mental health problems that have not been adequately addressed. That there is no possible chance that someone other than you could ever access your gun.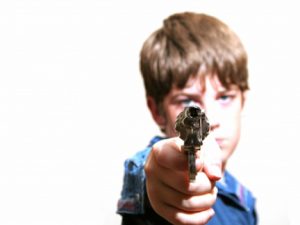 Why Isn't Access to Mental Health Care a Right?
What shouldn't be an earned privilege?
Having access to mental health care.
If the US citizens are actually committed to seeing an end to school shootings, mental health care access needs to be at the top of your list of priorities. It is nearly impossible for someone to decide to take a backpack of guns into a high school and shoot up the place without having some emotional difficulties. Difficulties that could likely be addressed with the proper therapist.
I work with a highly volatile client base, many of whom have committed gun-related offenses, including multiple murder, murder. attempted murder, assault and assault with a weapon. As I work with these clients, I unanimously hear that if they had someone they could have talked to, things would have ended differently. If it was OK for them to seek help before doing what they did, lives could have been saved.
It's not easy. It's perhaps one of the most complex problems that exists in the Western world. But just because we can't find a simple solution, it doesn't mean that we shouldn't do what we know works: limit access to guns and increase access to mental health care.
Feeding Cocaine to Cure a Heroin Problem
Putting more guns in schools (in terms of armed guards) is the equivalent to introducing crack cocaine to a heroin epidemic. We need to lessen the amount of access to guns while increasing the access to listening ears. You don't fix a heroin problem by introducing more heroin. So how could you fix a gun problem by introducing more guns?
Frankly, I'm sick of hearing it. Yes, you have the right to bear arms. But you also have the right to wear silly-putty on your head while having pink high-heels on your hands and singing a rendition of the Safety Dance. You also have the right to wear gasoline-laced paper towel pants while singing the National Anthem while smoking a cigarette.
But, would you do it? No, you wouldn't. Because it doesn't make any sense.
A 'Right' Doesn't Make it 'Right'
Wake up and take a look what is going on around you. While you are at it, take a look at the obituary section of your local newspaper and all the innocent lives that could have been saved by rational gun control and free access to mental health care.
If accessing mental health care was as easy as accessing guns, we would immediately see a decrease in these tragedies, according to Electroboy author Andy Behrman.
America. I'm not trying to be offensive. I'm just trying to be rational.
Please. Just think about it.
What you are doing now, just isn't working.
The Completely in Blue website is here. Chris is also on Google+, Twitter and Facebook.