Talk About Suicide to Erase the Shame of Talking About Suicide
I'm talking about suicide, and I won't hold back. A friend of mine killed himself this week. He wrapped a noose around his neck and took his own life. I'm talking about it. And I'm not sugar-coating it. The statuses of those who knew him dominate my Facebook newsfeed, and I'm noticing that although everyone knows what happened, no one mentions it in writing. No one is openly talking about what took this young man away from us 30 or 40 years too soon (Understanding and Helping the Suicidal Person).
If We Talked About Depression, We'd Prevent Suicide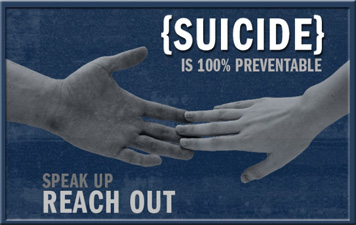 I wish I'd had the chance to talk with my friends about my depression and my suicide attempt. But I didn't know he was suffering. He didn't talk about his depression to me. He was a great guy. A superbly talented musician who would go any lengths out of his way to help a friend. He was a brilliant comedian and captured the attention of everyone in the room the second he walked in. But under the guise of this light-hearted, easy-going musician, lay a disturbed soul filled with a quiet sadness. A sadness that, perhaps, if talked about openly, could have helped to spare his life.
The stigma surrounding depression and suicide is still enormous. Although we claim to be moving forward when it comes to mental health, we, as a society, are still terribly frightened to talk openly about suicide. Which is odd, because most people know someone who has taken, or attempted to take their own life.
It's Us Versus Suicide: Let's Coax Suicide Out of the Shadow
When I attempted suicide about fifteen years ago, it was a taboo topic that was simply not talked about. I remember when I went back to high school after a few weeks off recovering from my overdose in hospital, I only told one or two people what had actually happened.
When a client comes into my office and mentions a previous suicide attempt, they say so with shame and extreme guilt. It's almost as if we are all scared to say the word suicide.
So, what can we do about it? Just as in any therapy, the best solution is simply to talk about it. The more we talk about it, the more we hear about it. The more we hear about it, the easier it becomes for those feeling suicidal to reach out for help.
Feeling Suicidal Is Nothing to be Ashamed Of
Feeling suicidal doesn't make you a bad person. It doesn't make you any less than anyone else. It signifies a plight that begs to be understood. All of our plights are different, but all are worth surviving.
Suicide can be prevented. And it starts with you.
Dedicated to the memory of Mikey. And to his friends and family, my thoughts are with you.
Shine on, you crazy diamond.
The Completely in Blue website is here. Chris is also on Google+, Twitter and Facebook.
APA Reference
Curry, C. (2012, July 16). Talk About Suicide to Erase the Shame of Talking About Suicide, HealthyPlace. Retrieved on 2019, July 21 from https://www.healthyplace.com/blogs/survivingmentalhealthstigma/2012/07/talking-about-depression
Author: Chris Curry
Thank you so very much for your insightful comment. You raise some excellent points.
Leave a reply