About Chris Curry, Author of the Surviving Mental Health Stigma Blog
Ever since I attempted suicide at the age of 15 and was urged to keep it under wraps, I have witnessed firsthand the over-bearing arm of mental health stigma. When I was ultimately hospitalized for drug-induced psychosis for four months at the age of 19, stigma took control of my entire life.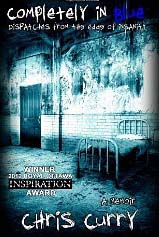 Eleven years later, I am speaking out about and against stigma. I am one of the lucky ones that was able to get the help I needed in order to get back into the land of the living. In the past five years, I graduated with Honors from the Mental Health and Addictions Counseling program, initiated a number of anti-stigma endeavors through my writing and music and recently released my memoir titled 'Completely in Blue: Dispatches from the Edge of Insanity.'
Although I have suffered from addictions, major depression, psychosis, anxiety, paranoia and everything in-between. I now know that I was not given a life sentence. Life is great now. I work full-time as a mental health and addictions counselor in a long-term residential treatment center for men who have come into contact with the law, I play music in the band Bohemian Cove, have a healthy relationship with the girl of my dreams and have a great network of friends and family.
Stigma surrounding mental health didn't make anything easy for me in the past fifteen years. But I hope that with what I have learned, I can help you to overcome stigma and get back to living the life that we all deserve to live.
The Completely in Blue website is here. Chris is also on Google+, Twitter and Facebook.
APA Reference
Curry, C. (2012, May 1). About Chris Curry, Author of the Surviving Mental Health Stigma Blog, HealthyPlace. Retrieved on 2023, December 8 from https://www.healthyplace.com/blogs/survivingmentalhealthstigma/2012/05/about-chris-curry
Author: Chris Curry
This blog is so awesome and very informative it really helps a lot. It may help more to a person who read this blog. Read this carefully and must understand what you have read in order to know its use.
[...] Chris Curry has just announced a collaborative work – it's a mystery at the time of this writing. He had published his amazing memoir  Completely in Blue: Dispatches from the Edge of Insanity last year and had no immediate plans to write again. He is a regular blogger at Healthy Place writing on mental-health stigma so it would seem the writing bug has bitten him hard. Find out more at chriscurry.ca [...]
I have been looking for your contact information. Anyhow I wanted to share with you my work. I'm a filmmaker, passionate about making films that raise awareness towards mental illness. Please take a look at my upcoming project "Following Jerry"
http://www.indiegogo.com/followingjerry
Very unique blog with lots of relevant information. Will absolutely be continuing to read more. It seems like you spent a lot of effort into it, and it shows. Thanks!!
Leave a reply