Eating Disorders and Competition, Comparison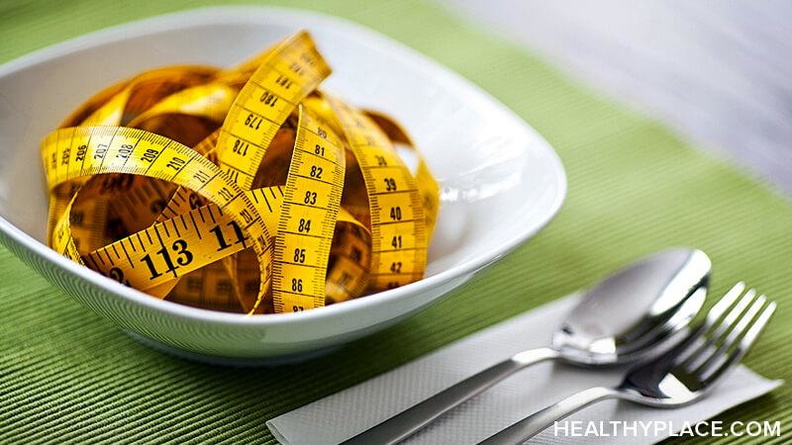 One of the most exhausting things about having an eating disorder is the non-stop racket in your brain. And while some of that chatter is about calories, food, and exercise - a lot of it is how you compare with other people.
Is s/he skinnier than I am? She's eating a salad - she must think I'm so fat for eating a sandwich. So-and-so used to spend X hours at the gym - I only spent Y.
More than anything, I just wanted my brain to shut up.

Comparison and Competition Over Eating Disorders
In all my time in treatment for anorexia, I have never met a woman who thought she was "sick enough" to be in treatment. (I suspect the same holds true for men with eating disorders, but I have been to female-only treatment centers.) It was a reality my dietitian had to prepare me for when I went into treatment the first time: "There will be women who are sicker than you and thinner than you. But make no mistake," she said, "you've earned your place in treatment."
Even now, after multiple trips to treatment and a stack of treatment plans almost as tall as some of my school books, I find myself doubting that I was ever really sick. "After all," I think, "didn't you just have a hamburger last week? Clearly you didn't really have an eating disorder. Jane Doe hasn't had a burger in XX years - she has a real eating disorder." To be sure, this is the voice of my eating disorder, always trying to suck me back in to this mind trap where I am lacking in some quality or trait - which can easily be fixed by bingeing, restricting, exercising, whatever.
Anything You Can Do, I Can Do Better
Even if we're not conscious about it, as people with eating disorders we are always competing. And if we are conscious about it, we're not talking about it. But the reality is - every one of us is trying to be the "sickest" - the "best at the eating disorder" - the "thinnest."
It's why some people come out of treatment centers sicker than they went in. It's why maintaining friendships with people you meet in treatment can be so potentially disastrous. It's why I don't use numbers or specific behaviors when I write this blog.
Every single one of us is trying to beat the other. We are all trying to snag that blue ribbon that proves we're "the best."
You know what that blue ribbon looks like? A gravestone.
Because this is a zero-sum game. You will never win when you compare yourself to others. You only win when you die. And I can tell you most assuredly that nobody is waiting for you in the afterlife, ready to pin a ribbon on your shirt.
You can't win with an eating disorder. So quit playing the game.
APA Reference
Hudgens, J. (2014, March 20). Eating Disorders and Competition, Comparison, HealthyPlace. Retrieved on 2019, July 21 from https://www.healthyplace.com/blogs/survivinged/2014/03/comparison-competition-and-eating-disorders
Author: Jessica Hudgens