Making Goals For Your Eating Disorder Recovery
One of the things any good therapist or dietitian will ask you when you seek treatment for your eating disorder is, "What goals do you have for our time together?"
I've done the treatment rodeo enough times to know that this question is coming, but I still stumble over words and fumble trying to find the "right" answer to this age-old question. To be clear, there is no "right" answer – only you can decide what things you are ready to tackle in your recovery. However, when you determine what those things are, there is a way to make effective goals that will further your recovery.
When I was a youth counselor for boys in the juvenile justice system, we had a weekly group on Cognitive Behavioral Therapy (CBT).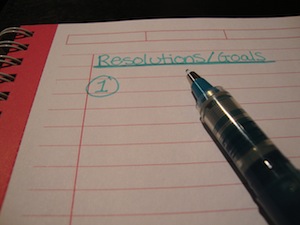 Did we tell the boys that this is the sort of thing they'd be learning if they'd been sent to a therapist instead of wilderness camp? No. But we did teach them how to make SMART goals.
SMART is an acronym to help you remember to make your goals specific, measurable, attainable, realistic, and timely. By making "SMART" goals, you greatly increase your chances of actually achieving the goals that you've set for your treatment and recovery.
Make SMART Goals for Your Recovery
Specific: What – exactly – is it that you want to do? Don't be vague here! A goal like "be less obsessed with my weight" is vague. However, a goal like "I want to decrease how many times a week I weigh myself" is specific – one fifth of the way to a SMART goal!
Measurable: How will you know if you're achieving your goal? If your goal is to "be less obsessed" how will you know when you're getting there? By adding a clause with a number, you can make your goal measurable: "I want to decrease the number of times I weigh myself to once every other week."
Attainable: Is your goal within the realm of physical possibility? Do you know someone else who has done it? In the case of our example, you can consider the thousands of people who don't ever weigh themselves and know that only knowing your weight every other week is very possible.
Realistic and Timely: Realistic differs from attainable because it takes into account where you are currently. And the timeframe that you choose greatly affects how realistic your goal is. If you are currently weighing yourself sixteen times a day, only weighing every other week is absolutely attainable, but it is not realistic to expect it to happen within the next three weeks. At the same time, you want to have some sort of timeframe, or you will not be at all motivated to work toward that goal.
So what does a SMART goal look like?
"By Easter, I want to decrease the number of times I weigh myself to every other week."
A SMART goal I'm currently working on is this: "By the end of March, I want to be eating a sandwich (on real bread) at least once a week."
What can I say? Real bread is a little scary at the moment.
What are some goals you have for your recovery? Are they SMART goals?