What Works When Disciplining a Child with Mental Illness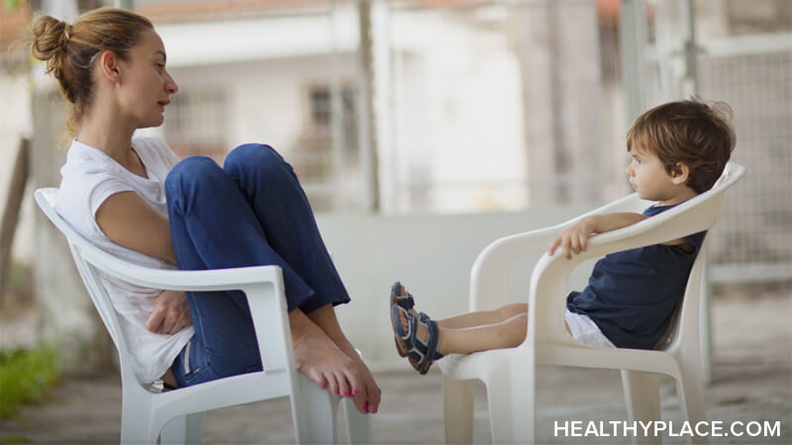 As parents of children with mental illness, we witness extremely bad behavior. We know it is not okay to be disrespectful or put holes in walls. Yet, traditional discipline methods don't work. We become desperate for effective parenting tools for our kids (The Challenge of Difficult Children Homepage). The key is to understand what is driving the bad behavior. Is it the kid or the mental illness?
Is Your Child Acting Out with Bad Behavior or Experiencing Behavioral Symptoms?
Disciplining a Child with Mental Illness at Home
My son Bob kicked a hole in the wall (one of many over the years) when he was 10 years old because his dad told him he was not going to basketball practice in shorts when it was 15 degrees outside. Bob became frustrated because he realized he would have to take off his basketball shoes, put on warm-up pants, put the shoes back on lace them up, and then repeat the process at the gym with everyone watching and judging him. His social anxiety skyrocketed and he kicked the wall.
Dad got mad and felt Bob deserved to be disciplined, "He's got to learn to control his temper!"
The truth is, a time-out, loss of privileges, or any other traditional discipline would have no impact on the situation. Believe me, we've tried them all. Sometimes attempting to discipline a child with mental illness makes the situation worse.
I've discovered my best response is to relate the incident to my son's therapist so she can give Bob better coping skills to deal with his frustration.
Disciplining a Child with Mental Illness at School
I use the same philosophy at school. It is important to differentiate bad behavior from the behavioral symptoms of mental illness. Unfortunately, teachers and administrators are rarely savvy at this skill. Often, it is our responsibility as parents of children with mental illness to educate the educators.
My son Bob's middle school vice principal, Mr. H, had me on speed dial. According to Mr. H, Bob was sent to his office because he was disruptive, disrespectful, loud, out of control, not sitting in his seat, sleeping, or otherwise not in compliance with school policy.
I should mention Bob was normally a good kid who was typically quiet, respectful, compliant, attentive, and horrified if singled out or sent to the principal's office.
I reminded Mr. H of my son's Individual Education Plan (IEP) and explained Bob's bipolar disorder and social anxiety disorder. I described the behavioral symptoms and how they might look like disrespectful or disruptive behavior in the classroom. I said that my son's swearing when unstable (unwell) is like a kid coughing or sneezing with a cold. Bad behavior at school is often a symptom of Bob's mental illness (Is Mental Illness an Excuse for Bad Behavior?).
You Can't Discipline the Mental Illness Out of Your Child
Then we discussed what should happen next. A detention was not the answer. But there were many options worth considering.
Did my son need to visit the school nurse?
Maybe he could meet with the counselor.
Perhaps he should go to his safe place to cool off and then return to the classroom when he was able to do so.
In the worst case, a call could be made and I would bring him home.
The point is to recognize when the mental illness is acting up and respond appropriately.
Disciplining a child with mental illness for bad behavior is like telling a kid with asthma to stop wheezing and just breathe.
APA Reference
Halli, C. (2014, September 28). What Works When Disciplining a Child with Mental Illness, HealthyPlace. Retrieved on 2019, August 19 from https://www.healthyplace.com/blogs/parentingchildwithmentalillness/2014/09/what-works-when-disciplining-a-child-with-mental-illness
Author: Christina Halli