Raising Child with Mental Illness Requires Flexibility
There's a great deal of flexibility demanded of parents and other caregivers of mentally ill children. I don't mean physical flexibility (although that can certainly come in handy, as well)--I mean the ability--and willingness--to completely move from Plan A to B in the blink of an eye.
I mentioned previously that some changes were in order for our family. After a lot of number-crunching, soul-searching, cussing and dis-cussing, nail-biting and everything else that goes with major life decisions--yesterday, I resigned from my job.
My office is at least a 45 minute drive from home, school, and doctors' offices. My hours are such that I leave home before the boys get up in the morning and don't see them again until just before dinner. I'd considered taking a job closer to home, but in my profession, "family friendly" means you can bring your kids to work with you when they're ill. I knew I might end up closer to home, but would likely be home even less.
So, after next Friday, I will be working in a different capacity.
I don't imagine it's going to be an easy transition, although I've been mentally preparing myself for the past few months. We can live on one income, but that's about it--we won't be taking any cruises or buying any new cars for some time. Beyond that, I've never not had a job in the last 22 years. Removing myself from the market at my age is frightening enough. Handing over my independence is even scarier.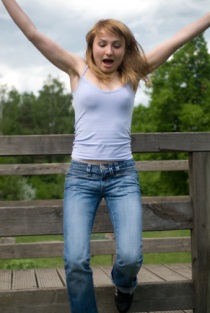 The bottom line, however, is at least one of my children requires more focus and flexibility. As the parent who earns substantially less, it's kind of a no-brainer.
I'm hopeful that my being around more will benefit Bob. Having me there to help him stay focused in the morning, as well as getting some early-morning exercise (we'll be biking to school when weather permits), will do him some good. I'm not green enough to believe my quitting my job will be the cure-all for Bob, but I am hopeful it will alleviate some of the pressures faced by him and our family.
APA Reference
McClanahan, A. (2011, April 26). Raising Child with Mental Illness Requires Flexibility, HealthyPlace. Retrieved on 2019, September 23 from https://www.healthyplace.com/blogs/parentingchildwithmentalillness/2011/04/raising-child-with-mental-illness-requires-flexibility
Author: Angela McClanahan