Holiday Survival Guide for Parents of Mentally Ill Children: Part 1 - Thanksgiving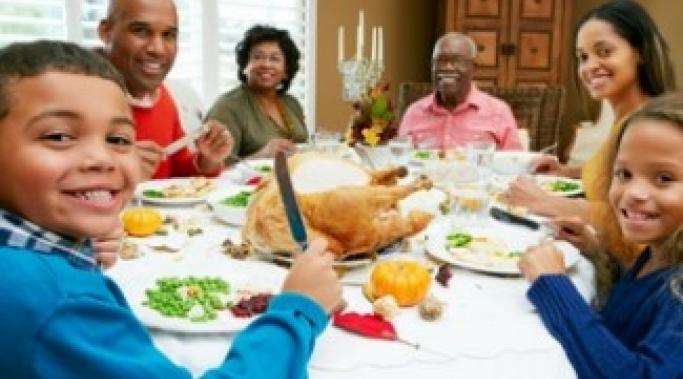 Ah, the holiday season. Families coming together in joy and harmony, stuffing turkeys (and ourselves) full of all manner of deliciousness. Children singing and reveling in the magic and mystery and--
Who am I kidding? The last two months of the year can be trying for any parent, but for parents of children with mental illness, they can be far removed from the Rockwellian scenes we once envisioned.
That's not to say you should hole up in a fallout shelter while the rest of world has all the fun. I've learned over the years how to make the holiday season less "Bah Humbug" and more "HoHoHo", and I'm sure you can, as well.
How to Survive Thanksgiving When You Have A Child With Mental Illness
Turkey Day, a truly American holiday, is celebrated by just about everyone regardless of religion or national origin. It also marks the true "kickoff" of the December holidays. For some children, it can also mark the beginning of a month (or more) of complete mayhem. Routines are disrupted, different foods are expected to be eaten, and all manner of relatives are at the ready to pinch cheeks and pass judgment. It's enough to make you wonder who the season is harder for--the children, or the parents?
Here are a few tips I've learned, in the nine years I've been Bob's Mom, to make the holiday more enjoyable and less dramatic.
Accept your child's limitations. I can't stress this enough. Until you can recognize--and accept--the fact your child is who he is (and that's okay), you will never get through a holiday season without unmet expectations.
Accept your own limitations. You are not a superhero (no matter how good you look in that cape). Chances are good you are stretched to your limit from January - October. Don't expect any sudden bursts of energy in November and December that will enable you to craft your own holiday cards by hand, bake thirty dozen cookies, take the kids caroling (twice) and do all the stuff you normally do (like work and take care of child(ren) and your house). Here's a secret--your children won't turn out any differently if you do those things or not. And another--the rest of the world will not decide you're a better or worse parent if you do them or not.
Learn the art of "no." You don't have to accept every invitation, take on every responsibility, or accommodate every person's wishes. Decide what's best for your nuclear family unit and put everyone else's needs second. You can decline graciously.
Create new traditions that are better suited for your own family. Maybe you crammed into the town square every year with your parents, siblings, and 90,000 others to watch the annual tree lighting ceremony; that probably won't sit well with your anxious child who hates crowds. But that same child might really enjoy a smaller, intimate tree lighting ceremony in your front yard.
Holidays can be challenging, yes. But with a little reframing, we can all find our own Rockwellian moment.
APA Reference
McClanahan, A. (2010, November 18). Holiday Survival Guide for Parents of Mentally Ill Children: Part 1 - Thanksgiving, HealthyPlace. Retrieved on 2023, September 28 from https://www.healthyplace.com/blogs/parentingchildwithmentalillness/2010/11/holiday-survival-guide-for-parents-of-mentally-ill-children-part-1-thanksgiving
Author: Angela McClanahan