Marriage and Mental Illness: For Better or Worse?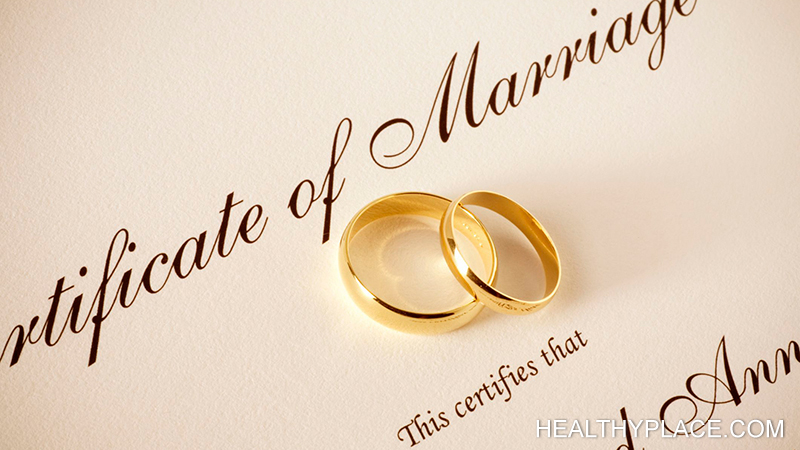 For Better of Worse? Yes, that's the vow. But when the symptoms of mental illness seem to change the personality - the very soul - of your husband or wife, how do you keep going? How do you hold the family together?
When faced with mental illness, family members have two sets of challenges. They seem to be
the emotions we all face (like grief, confusion, guilt, loss, anger) and,
the more practical issues in the role of any family caregiver - a role we all have to play at least some of the time in this situation.
My most personal experience, as a family member of someone diagnosed with mental illness, is as a Mom. In fact, I'd venture to say that a majority of the people who take NAMI's Family-to-Family course are parents. A typical class of 20-25 usually includes a handful of siblings, spouses, and/or children (that is, adults who grew up and may be caring for a parent with mental illness) - but the biggest group always seems to consist of parents.
Many of the issues, emotions, and challenges we face as family members certainly are universal to all of these roles - however, there are also additional feelings and obstacles that are unique to each "relative group."
Yes, I am a mother - but I also watched my daughter suffer through the loss of the "big brother" she knew, and adjust to her new role with a "little brother", whose growth and accomplishments now trail behind. I also was married to an alcoholic for seven years (Ben and Ali's father, William) and though I now struggle to determine if he'd had a co-occurring mental illness, I know that I did live with some of the uncertainties that spouses face when mental illness changes the partner they thought they'd married.
Challenges Facing Spouses with Mentally Ill Partners
Here are 5 things I learned from spouses of those with mental illness about their particular objective challenges, in addition to the ones we seem to all have in common (financial worries, staying alert to relapse symptoms, coping with family conflict etc.):
Spouses also face:
Feeling like you've lost the partnership of marriage. If you always turned to your spouse in times of need, where can you turn now? (I know, in our house, my friends' sympathy for my Williams' alcoholic episodes wore thin very fast)
Financial burdens. Coping with the loss of a wage-worker in the household, if mental illness has led to job loss. (I began to lose count of the number of jobs William lost, or the number of customer complaints when he started his own business, due to unreliability)
Resentment - and sexual distance - that can accompany the change in roles when one spouse takes on the "caretaker" role.
Single-parenting coupled with being the primary caretaker of your spouse. (One Mom I met told me about walking down the stairs dressed in her husband's Santa suit to greet their three young kids after he'd been hospitalized on Christmas Eve. That may the tip of the iceberg, but it still broke her heart). Worrying about your children's emotional state as well as your own.
Stigma, social isolation, loss of the "couple friends" group. Invitations dwindle when your spouse's actions are unpredictable and sometimes embarrassing.
What helps spouses? What helps all family members? In my next post, I'll talk about life balance, and some concrete steps like learning all you can, reaching out for support in new places, and self-care.
Are you a spouse of someone with a diagnosed mental illness? Does this ring true for you? What helps you?
APA Reference
Kaye, R. (2012, March 17). Marriage and Mental Illness: For Better or Worse?, HealthyPlace. Retrieved on 2019, September 19 from https://www.healthyplace.com/blogs/mentalillnessinthefamily/2012/03/marriage-and-mental-illnessfor-better-or-worse
Author: Randye Kaye