About Randye Kaye, Author of Mental Illness in the Family Blog
Ten years ago, if you'd asked me where I thought I might be in 2011, the last thing I'd have said is "I plan to be a writer." Yet, here I am: blogging for HealthyPlace.com, and about to be a published author. When I go to Amazon.com and search for my book (which, I must admit, I do at least 5 times a week, just to make sure it's not a dream), I'm still amazed to find myself with an "author's page" and a biography on Wikipedia.
Oh, I'd hoped to be a "wiki girl", but I'd thought it might be because of my work as an actress, radio personality, voice talent or singer. Life is funny that way. You make your plans, and sometimes you follow them. Sometimes, too, the universe sends you elsewhere, like a stream cutting through the forest. It goes where it needs to go.
My son, called "Ben" in my book, began to show really odd behaviors in his mid-to-late-teens which we later learned were fairly typical signs of gradual-onset paranoid schizophrenia. Who knew? Certainly not us. Definitely not any of the psychologists, psychiatrists, or teachers who offered their opinions. It only became clear later on, in hindsight, and as a result of the education we finally began to seek. During this time, I was a top-rated morning radio personality in Connecticut, doing my best to find the humor in Ben's antics, to portray him as a "teenager who should have been a hippie during the 60's."
Between the radio show, voiceovers and stage performances, my job was to make people laugh – but my "hobby" became mental illness. I finally found education and support through NAMI, the National Alliance on Mental Illness, and became a teacher and the Connecticut State Trainer for its Family-to-Family educational course. Slowly, my family - me, my daughter, and my soon-to-be new husband - began to heal. Slowly, so did Ben.
Mental Illness in the Family Blog Welcome Video
Ben Behind His Voices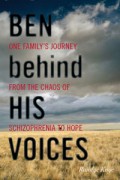 After leaving Morning Radio (and the 3:15 AM wake-up calls) behind, I was asked to write about Ben's illness and recovery, and how it had affected our family. The result is Ben Behind His Voices: One Family's Journey from the Chaos of Schizophrenia to Hope (August 16, 2011, Rowman and Littlefield Publishers). I speak frequently to professional providers and families about the process of coping with the challenges – including stigma – when mental illness strikes a loved one. Suddenly, radio people are calling to interview me. Go figure. And Ben? It's a tightrope walk, for sure, but he has gone from hospital patient (seven times) to someone with good grades, a job, and his own (supported) apartment. And all the while, we keep our eyes open for relapse. Just in case.
Our experience with Ben's illness and recovery has taught us a lot about diversity, resilience, acceptance, and the importance of family love in the face of devastating challenge and change. Ben is worth loving - and always has been. His life is worth living - no matter what. And he needs his community - his family, his providers, his friends - and a sense of purpose, just like anyone else. He - and countless others like him - deserve respect and understanding. Not stigma. No stigma.
You can also find Randye Kaye on Google+, Facebook and Twitter.