Defying Mental Illness: This Resource Can Help
So many kind readers have written to me about Ben Behind His Voices and have expressed gratitude not only for the way we share our story, but for the resources included as the drama unfolds. These letters have reinforced the fact that so many are still confused about how to navigate the symptoms, the rules, the systems we encounter when mental illness affects the family. I am among the confused, still. It seems there is always more to learn. (insert sigh here)
Enter this book, by Paul Komarek and Andrea Schroer: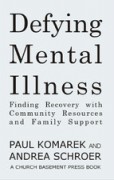 Defying Mental Illness: Finding Recovery with Community Resources and Family Support

Although I included a lot of practical advice in "Ben", the memoir was never intended to be a "how-to" manual. The intended impact was in telling our story - but the need for additional resources is part of that experience. For all of us, I think this book is an excellent companion. It is well-researched, well-written, and clear. My congratulations and thanks to the authors for providing an accessible manual that I can recommend as a concrete resource to anyone needing clear guidelines about mental illness, its effect on the family, and the recovery process.
They state, in the introduction, that the goal was to write "a book that is not too technical, and suitable for community outreach work." This is beautifully accomplished.
We've been at this so long (Ben has been diagnosed with schizophrenia for almost ten years now, after the five years of confusion), that at least we know the questions - and, thanks to NAMI and other helpful resources, some of the answers. But if you are new to this - or not - you may want to know things like: What are the symptoms of each mental illness? What is a guardianship?How do we navigate the waters of Social Security, Medicare/Medicaid, and involuntary commitment? Where do we turn?How can we help?
If, in addition to the excellent mental health information available at HealthyPlace, you've been looking for one book that contains well-organized answers to these and many more questions, for both people diagnosed with mental illness and for those who want to be a part of recovery, then this is for you. Authors Paul Komarek and Andrea Schroer pool their expertise as professionals who have navigated these waters to create a wonderful resource for families looking for concrete, accessible information.
As they state in the first few pages,
The authors know many people who have made it through the struggle with mental illness, and many family members and professionals who have supported people with difficult conditions. They have come to terms with mental illness, faced every kind of disorder, and dealt with every kind of treatment. They have rebuilt lives, repaired family relationships and achieved meaningful success. You can accomplish this too.
With so many of us finally sharing and stories, and with resources like this one, the chances for such accomplishments are even better. This is a welcome addition to your library!
APA Reference
Kaye, R. (2011, November 27). Defying Mental Illness: This Resource Can Help, HealthyPlace. Retrieved on 2023, December 1 from https://www.healthyplace.com/blogs/mentalillnessinthefamily/2011/11/defying-mental-illness-this-resource-can-helpp
Author: Randye Kaye