New TV Series, Perception: and Schizophrenia Reality
Last night we finally sat down to watch the first episode of Perception,a new television series on TNT starring Eric McCormack as Dr. Daniel Pierce, a professor of neuroscience with a brilliant mind – and schizophrenia. Because of this mental illness, he sees things in a different light, evidently extremely useful for solving crimes.
How I could wish that my son Ben's hallucinations were so helpful.
But this is reality.
Perception vs. Reality
I tried to watch the pilot episode with as open a mind as possible. After all it is just a TV show, and it is nice to see someone with schizophrenia be the hero for a change. Still, I wonder about misconceptions being perceived as reality by those who know woefully little about schizophrenia as it is - including Ben himself.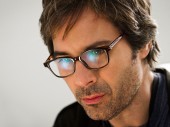 The big issue for me is that somehow the show's main character has chosen to go off of his meds and yet manages to keep his job, educate his students, reason with his voices (most of the time), and even have hot students throw themselves at him. Believe me, it crossed my mind to ban Ben from watching this, lest he get any refreshed ideas about cheeking his meds.
But I did find some truth (as our family sees it) to the depiction of schizophrenia in the series. Schizophrenia is a complex illness, actually a cluster of different symptoms, so no two cases are exactly alike. One fact is that as those with the illness age, there may be an improved prognosis.
So - good. That gives me hope, but for the future. Not for right now. Right now, if my 30-year-old son were to choose to go off his meds, he would be back in the hospital, and uncontrollably psychotic, within two days.
How do I know this? It happened just one year ago. So no experiments right now, please. At the moment Ben is doing well - even employed. Don't wanna mess with success right now. No thanks.
Here are some of the differences I see between Perception, and the reality as our family knows it. So far.
Employability
Perception: The character of Dr. Pierce (like John Nash, eventually, in A Beautiful Mind) is a gifted professor who has a job, is well-respected, and clearly has a gift for teaching.
Our Reality so far: Ben has an IQ of 148 – not enough to be a professor perhaps, but certainly enough to have great potential. He is finally working – but there were eight long years of un-employability as he took steps to recover from numerous hospitalizations and get used to the medical treatment that keeps him able to function.
Medications
Perception: Dr. Pierce, while admitting that psychiatric
[caption id="attachment_1018" align="alignright" width="120" caption="always, the question of meds..."]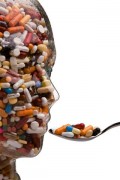 [/caption]
medication "works miracles for many", does not take them himself and finds instead that, with help (like an able and aware assistant) and his own sense of reason, he can often manage the "voices" and hallucinations.
Our Reality: Maybe, someday, Ben will be able to handle his "voices" without meds. But not now. Oh, no – not now. Of that I am certain. I have seen him try.
Romance
Perception: Pierce has dated in the past, and his students flirt with him.
Reality: Well, let's just say not yet. In any relationship, it takes a certain amount of self-acceptance and confidence to enter into a healthy partnership. Ben is getting there, but without insight into his own schizophrenia, romance is not yet in the cards.
Focus
Perception: Pierce, when given a clear task (like teaching a class, or solving a crime) is focused and externally engaged, even sociable. After the class is over or the problem solved, he retreats to more eccentric behavior and/or his hallucinations visit him.
Our Reality: True. Ben is at his best when given a clear goal. He functions really well at work, where he deals with customers all day. Board games? Total focus. One-on-one discussions? The same. But he tends to crash afterwards, and need some time alone. In more distracting situations like a crowded noisy restaurant? It's more difficult. Too much happening at once. Ben may need to turn inward for a few minutes. And this is with his meds. Without them, the periods of "focus-ability" may be only that – moments.
Effects of Stress, and Music's Balm
Perception: Extreme amounts of stress for Dr. Pierce (overwhelming sounds at the police station, a student offering sexual favors) affect him so much that he needs to find comfort by retreating inside music. He has cassette tapes of classical music, blasts them into his brain via headphones, and begins to "conduct" the music. Anywhere.
Our Reality: Ben does this with music, too – even when stable. He uses an iPod instead of cassettes, the music is more likely to be Matchbox 20 or Bob Dylan, but at he turns the volume up to fill his brain, and often sings along under his breath.
Mental Acuity
Perception: Dr. Pierce does crosswords and Sudokus with amazing alacrity and accuracy. He also can unravel and anagram faster than a speeding bullet. But only without his meds.
Our Reality: Ben has no patience for a crossword puzzle, but he sure is the king of Scrabble, Catchphrase and Boggle. His mind amazes us. But only with his meds. Without them, he can barely remember the beginning of a sentence by the time he gets to the end.
I'll keep watching this show - both as a fan (at least they are aiming for some respect and empathy, and also I love Will McCormack) but also as an advocate for my son, and others like him, who are not (at least yet) at the point where they can take the no-meds risk.)
Can people with schizophrenia "manage" their own voices without meds, using reason and understanding and the help of others if they are not sure "which reality is real"?
There is a movement in the mental illness world called Hearing Voices, which says yes – for some. And I agree – for some, this can be possible, with a lot of work. But most I have met who have achieved this are (a) older, at least in their 40's (b) had their first psychotic break later in life, often after they were well into college years (c) have insight into their illness. Not one of these elements is true for Ben. Yet.
Perception, in this case, is not yet everyone's reality.
APA Reference
Kaye, R. (2012, July 30). New TV Series, Perception: and Schizophrenia Reality, HealthyPlace. Retrieved on 2019, September 15 from https://www.healthyplace.com/blogs/mentalillnessinthefamily/2012/07/new-tv-series-perception-and-schizophrenia-reality
Author: Randye Kaye
yes, I think it is actually presenting some more perspectives - remember, I wrote this post after only a couple of episodes. And I agree that Eric McCormack is so great in it that I will watch if only for that! I, too, am still watching :)

I hope they have consultants on there who will keep it real, fair and balanced.
Thanks for commenting!
Randye
Hi chris et al
Wow. What a story! Thanks for the encouragement :).
I have read saks' book and it was great. Stories provide hope and insight so that's why I wrote ours in Ben Behind his Voices. Happy to say that Ben is back at school part time college and his grades are like yours!
!
Leave a reply