Conservatorship and Mental Illness: When to Let Go?
Nine years ago, I was appointed conservator of estate and person for my son Ben. I remember the court hearing well. Ben was in the middle of his first hospitalization for schizophrenia, refusing medication and wanted to be released. The only way to keep him in the hospital, if he did not agree to stay voluntarily (and that certainly wasn't happening), was to apply for conservatorship. The hospital would then be legally required to keep Ben there - at least until the court date.
I remember the day well. Expert after expert, delivering the verdict: "Gravely disabled." The words stung each time they were uttered, yet I knew it was true.
[caption id="attachment_748" align="alignleft" width="170" caption="When to Let Go and Stop "Helping"?"]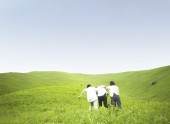 [/caption]
Ben tried gamely to defend himself, rallying his energies for a speech that was quite impressive for someone whose inner world was vying for his attention. Still, I got what I needed: the right to make decisions for Ben, to keep him in the hospital, to require that he take medication. The last two rights disappeared as soon as he was released, of course, but conservator status remained in place.
Each year since then, I have had to reapply for this status - and it has always been granted. This year, though, may bring change. I just got a call from a lawyer who has been assigned to get Ben's take on this - and now he is questioning whether he wants me to continue in this role.
I am scared.
What to do? Well, we're re-educating ourselves as to exactly what rights I have in this role, and whether Ben can truly function well without my supervision. At the present time, things look great. Ben is taking his meds, is doing extremely well at the moment: part-time college, part-time work, and clean/sober years racking up. But - just eight months ago he was wandering the halls of the psychiatric unit, once again "gravely disabled." Had I not waved those conservatorship papers in front of the hospital staff, I would not have been invited to participate in Ben's recovery plan - and then where would we - would he - be?
For relatives of those diagnosed with mental illness, this issue of legal rights is very complex. When Ben is doing so well, he doesn't really need me. But - should crisis hit again - what then? Can I get him to sign a basic release of information form now, maybe a power of attorney for times of hospitalization, instead? Will that guarantee me my rights to be on his treatment team? Will he sign these now, while he is reasonable and balanced, in the hopes that I will never have to use them?
What have you done? Have you faced this decision in the past? How have you made sure of your rights to make decisions for your loved one, be allowed to access medical information when necessary, without conservator papers?
Open communication and teamwork between those diagnosed, their families/caregivers and healthcare provider is essential for better recovery. So - why does it become so hard to be on the team?
APA Reference
Kaye, R. (2012, March 31). Conservatorship and Mental Illness: When to Let Go?, HealthyPlace. Retrieved on 2019, September 16 from https://www.healthyplace.com/blogs/mentalillnessinthefamily/2012/03/conservatorship-and-mental-illness-when-to-let-go
Author: Randye Kaye