Holiday Stress Reduction Tips For Bliss
Most of us need some holiday stress reduction tips at this time of the year. Let's face it—the holidays are full of stress. If you have a mental illness the stress typically just intensifies so try to maintain your bliss with these holiday stress reduction tips.
The video below shows some tips that I use to make through the holidays and ideally keep my bliss intact.
Create a Plan to Reduce Holiday Stress to Maintain Your Bliss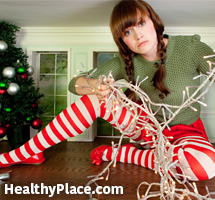 Like any good mission, your mission to stay happy during the holidays starts with a plan. Make sure you include being with other people in your plan. Isolating yourself can enhance feelings of anxiety and depression.
If you do experience holiday depression make sure to acknowledge that in order to get the support you need. It's important to know your triggers to avoid a mental health relapse during the holidays.
Call a Warm Line to Reduce Holiday Stress
If you do find yourself alone and feeling down this holiday season, call a warm line (a line dedicated to pre-crisis support). Mental Health America of the Heartland operates a warm line from 4 to 10 p.m. daily—including holidays. If you feel like you just need someone to talk to, this is a great resource. The number is 1-866-927-6327. Warm lines are a good way to combat the isolation and loneliness that sometimes comes with mental illness.
Watch This Video for More Holiday Stress Reduction Tips
APA Reference
Hoskin, A. (2015, November 10). Holiday Stress Reduction Tips For Bliss, HealthyPlace. Retrieved on 2023, December 1 from https://www.healthyplace.com/blogs/livingablissfullife/2015/11/maintain-your-bliss-with-these-holiday-stress-reduction-tips
Author: Arley Hoskin, CMPS
Holidays as exclusive psycho-social experience exhibit both: satisfied and unkind events. But, it should participate on these intrigued interpersonal relationship, as much as it is possible, because this practice improves social skills. Social skills on the other hand creates and develop supportive network as prerequisite of healthy and functional personal, emotional occupational and social statement. Therefore, it ought to be prepare mentally and emotionally to celebrate holidays everywhere and at any place. When it is in question mentally ill persons the issue becomes more difficult one. To achieve this objection, your genuine advises are welcomed, moreover when it is known the fact that people with any mental disorder have got subtle and delicate interpersonal relationship. However, tips of reduction of stressful occurrences indicates great and useful step to accomplish blissful holidays. In this direction, the support of any close friend and family is indispensable. Mentally ill people have got insufficient interpersonal abilities and that is why helping and supporting this category is of crucial importance.
Leave a reply