I Don't Want You Anymore Depression
Sometimes it feels like it has been a long 20 years of living with depression and it's related challenges. Today feels like it's been far too long. I have been lucky enough to experience periods of reprieve, times of fresh perspective and times of stability. I believe I am still in a healthy place despite some major life challenges. But, even with these periods of relative calm and good mental health, there is something ever-present, the fear and stigma of depression.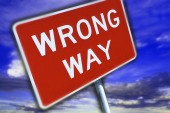 Searching for Work with a History of Depression
I am currently on a job search. Knowing that my work activities, hobbies, and volunteer efforts are almost entirely focused on mental health, I know that it might raise some questions for prospective employers. The imagined thoughts are that an employer would say, "Oh, she's really into mental health, she must be messed up herself!" or "We don't need to add someone to our team who might not be stable." My blogs and mental health related social media efforts are completely public, by choice, and I can't help but wonder if it could hinder my ability to find work.
It's not that I feel embarrassed about my experience, it's a human experience. My challenges with depression are real and can happen to anyone. It's not that I am personally ashamed. But, I know the stigma that is out there, I know the concerns of employers and people who aren't so compassionate towards mental health issues. I know that we aren't to speak of such things in public, and that if we do, we are often considered as "going against the grain", sometimes even brave and courageous, for discussing what society has deemed taboo topics.
The World Can Be Cruel to Those with Depression
I see the reality of how people are treated with any history of mental illness. I have a family member who is currently in the hospital for some very serious symptoms that could indicate a stroke or a neurological problem. The nurse asked yesterday if my family member had any history of mental illness, perhaps she could be exaggerating her symptoms? She asked this even though they have already seen medical proof that a small stroke has previously occurred and that there are very serious conditions indicated by her current symptoms. No one denies that previous mental health issues are important to take note of, but don't discredit other medical concerns as a result.
Everywhere I turn I see how depression has left it's mark on my life. It's hard not to see actually. I don't want to have that vision. My windshield may be cracked, but I want to see the light and beauty beyond it. I want to be given the opportunities that any other person would be given, regardless of health conditions. Would anyone even consider not offering a job to a person with a "mainstream" medical condition? More than likely, the issue would not come up in the hiring process.
You Can Leave Now Depression
I choose to see my future as bright and the options are limitless. I choose to see the endless opportunity before me. It truly is an open road. I see how depression has strengthened me and brought gifts into my life. Most days, I wouldn't trade it for the world because of the meaning and importance my experience has brought to me and the lives of others. But just for today, I am tired of it. I don't want to explain my depression to anyone, I don't want to worry about it being held against me. I reject the judgment of this world. I don't want you anymore depression.