New Research in Food Addiction
As I tossed a french fry into my mouth, I thought, "mmm . . . salty." In fact, it was too salty for my taste, but somehow I still enjoyed it. That's because certain foods affect humans in a manner similar to other addictive substances. The fries didn't even taste that good, and yet I kept eating them. This new research in food addiction may explain why.
Food Addiction in Humans
The current scientific wisdom regarding human food addiction is that our predecessors developed intense desire for foods necessary for survival in harsh circumstances--like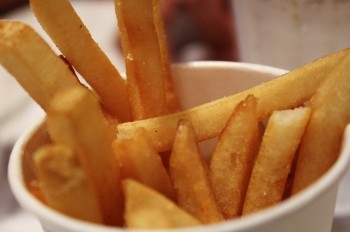 sugar and fat for energy. Recently, some researchers have added salt to this list as well. In a lifestyle of famine and feast, binge eating was necessary for survival. In industrialized countries today, food is abundant and in fact, high sugar and high fat foods are often more easily obtainable than, for example, fresh fruits and vegetables.
As is the case with addictions in general, a lot of controversy exists surrounding food's addictive properties. It is hard enough to define addiction to substances that the medical community considers highly addictive, like heroin and nicotine, let alone recognize addiction to something that is vital for life.
Research on Food Addiction, Consumption, Sugar, and Neural Pathways
Some recent scientific developments have suggested that certain types of food affect people differently. This approach makes sense to me. After all, with substances like alcohol and cocaine, some people can take them or leave them while others quickly become hooked.
According to a January 29 press release, researchers at Massachusetts Institute of Technology recently unveiled the results of a rodent study that show promise of isolating a part of the brain involved in compulsive overeating and sugar bingeing. The scientists took two groups of well-fed mice and placed them in environments with sugar-based rewards. Some of the mice had the neural pathways from the lateral hypothalamus to the ventral tegmental area activated and some had it inhibited. Those with the excited pathways spent more time eating than those with the inhibited pathways, and they also sought the sugar reward more often, even when they had to cross a foot-shocking platform to get to it. They did the same experiment with hungry mice and found that inhibiting the pathway inhibited compulsive sugar-seeking behavior without decreasing food (as opposed to sugar reward) consumption. The findings suggest that a different neural pathway controls eating involved with hunger and nourishment and eating involved with reward and pleasure.
One of the problems people frequently cite in food addiction treatment is that, unlike drugs, people cannot abstain from food altogether. Thus if scientists are able to identify the different parts of the brain involved in compulsive and binge eating, they may be able to treat unhealthy eating habits while keeping the healthy ones.
Symptoms of Food Addiction
From time to time (like every time I make brownies) I have noticed that my relationship to food is not always the healthiest. I have always said I have a sweet tooth, and some foods, such as tortilla chips, I often eat more than I should or intend to. I looked up various symptoms of food addiction and found I have some of these behaviors but not others. Some symptoms associated with food addiction include:
Eating more than you intended to
Trying and failing to control your eating
Experiencing guilt and shame after eating
Eating to deal with emotions
Interference with life due to your eating
Hiding and secrecy around eating
Continued unhealthy eating despite negative consequences
Some of these can also be symptoms of a different type of eating disorder, such as anorexia or bulimia (both of which are often related to binge eating). In addition, people can experience some of these symptoms without being a full-blown addict. My own tendency to overindulge in brownies and chips from time to time has not caused enough pain or problems for me to change much, although I do get down on myself for it. What is your experience with food addiction? Have you made changes and if so, what helped you?