The Top Ten Reasons I'm Grateful to be a Recovering Addict
As we approach the Thanksgiving holiday here in the States I have to pause and take a few moments to share some of the things I have to be grateful for. There was a time in my life when this holiday was especially chaotic and downright insane. After entering recovery I have come to appreciate all that I have and how truly blessed I am.
My Top 10 Reasons
With this spirit in mind, I would like to share with you my Top 10 reasons I am grateful to be a recovering addict:
10 - I can remember what I did last night.
9 - I have true friends that I know I can trust and rely on.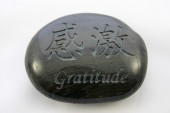 8 - I am able to be honest with myself and others.
7 - I can appreciate this world we live in despite all its problems.
6 -I have empathy for others.
5 - I have a family that loves me, and I love them.
4 - I have potential.
3 - I can share with others, through this blog, what I have been so freely given.
2 -I am able to be a responsible, productive member of society.
1 - I don't have to use, no matter what.
Gratitude is a Year-Round Thing
Of course, there are many other reasons I am grateful to be a recovering addict. I don't just think of these things during this time or year. It's is all year round. As I often say, if it wasn't for my recovery program I would not have anything that I have today, and I don't mean just the material things. I also believe that true gratitude is about giving of ourselves for the common good. This can be done in a variety of ways. For myself, as a recovering addict, I believe that is my duty and obligation to let others know that recovery is possible.
So however you observe the Thanksgiving holiday take a moment to reflect on all that you have to be grateful for because a little bit of gratitude can go a long way.
APA Reference
Shallowhorn, K. (2012, November 19). The Top Ten Reasons I'm Grateful to be a Recovering Addict, HealthyPlace. Retrieved on 2021, April 23 from https://www.healthyplace.com/blogs/debunkingaddiction/2012/11/the-top-ten-reasons-im-grateful-to-be-a-recovering-addict
Author: Karl Shallowhorn, MS, CASAC