Finding the Courage to Change
There are many consequences to keep into mind when it comes to making the decision to stop using drugs and alcohol.. What I mean is that while abstaining from substances is a tremendously courageous thing to do, there are a number of considerations to keep in mind.

Am I Ready to Quit?
The first thing you may want to ask yourself is, "Am I really ready to stop using?" While in some respect, this may seem like a no-brainer, but until you are firmly convinced that you no longer want to use then you may not find success in your endeavor. At some point there needs to be a realization that your efforts to use successfully have failed. This is usually indicated by the negative effects of one's substance use (problems with relationships, work,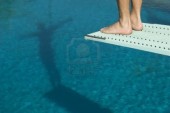 health, etc.).
Who's Got My Back?
Next, consider the people in your life. Think of the ones who will be supportive of your new way of life as well as those who will serve as negative influences. Then there are those who may be skeptical of your turning over a new leaf. Often these are the people who have been closest to you during your worst days. In the end, it s the people in our lives who can make a huge impact on our recovery for better or for worse.
Recovery: A Long-Term Commitment
And what about what it will take to maintain your recovery? Sure, putting down the drug is one thing, but what about staying clean over the long term? For many people in recovery, the concept of "One Day at a Time" or "Just for Today" is the way that long-term recovery is achieved. This process allows a long-term goal to be broken down into a smaller, more manageable objective.
The Best Decision You May Ever Make
Finally, making the decision to stop using can be the best decision you could ever make in your life. As for myself, I would not be the person I am today if it had not been for my decision to stop using drugs and alcohol. So, you see, when I mentioned the term "consequences" earlier, in essence, I meant it in a positive way. If I had chosen to continue my downward spiral of chemical use, I undoubtedly would never been able to work towards the potential I have within.
So ask yourself if you are ready to deal with a life beyond your wildest dreams. It will challenge you in many ways but it will also help you to grow immeasurably.
APA Reference
Shallowhorn, K. (2012, November 26). Finding the Courage to Change, HealthyPlace. Retrieved on 2023, December 5 from https://www.healthyplace.com/blogs/debunkingaddiction/2012/11/finding-the-courage-to-change
Author: Karl Shallowhorn, MS, CASAC
[…] the most powerful learning experience for me was in my early recovery, when I was looking for the courage to change my life by staying sober. The longer I trusted the process by following suggestions, even though I felt […]
Leave a reply