From Financial Struggles in Addiction to Financial Security in Sobriety
How many people struggle with financial issues in their battle with addiction and in their recovery? I think financial struggles are largely prevalent and not often talked about when you are in recovery/sobriety from an addiction.

Financial Struggles in Addiction and New Found Security in Sobriety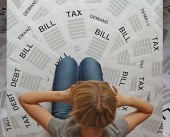 As I approach my 4th year sober from alcohol, I realize how grateful I am that recovery has given me back so much and made me capable to reach financial security.
I have struggled greatly with financial choices, debt, inability to manage or function when trying to handle my finances. I have had a history of avoidance, and it was only in recovery that I finally found myself capable of making decisions to reach financial security.
My video is long, but it does have promises of the hope in recovery, tears of gratitude (about 4 minutes in), and puppy kisses (8 minutes in if you want to see my puppy Leah make an appearance)!!!
APA Reference
Sebelius, K. (2011, October 13). From Financial Struggles in Addiction to Financial Security in Sobriety, HealthyPlace. Retrieved on 2022, August 18 from https://www.healthyplace.com/blogs/debunkingaddiction/2011/10/from-financial-struggles-in-addiction-to-financial-security-in-sobriety
Author: Kendra Sebelius
Hi Kendra,
well done - congratulations! What a big achievement.
Good to hear your story and gratitude.
So great to see you emotions over your achievements, especially the car!
I wonder wheter sharing this video has solidified your resolution for sobriety.
I can relate to the difficulty of becoming sober having been there with several addictions myself.
Hopefully more people will hear your story.
I will share this!
Leave a reply