Betty Ford and the Legacy She Leaves
I called this blog debunking addiction because I wanted to debunk the myths surrounding addiction, as well as continue the work to de-stigmatize these struggles. Betty Ford epitomized this mission. Besides being a First Lady, she worked tirelessly to lessen the stigma attached to addictions, as well as fight for women's health issues. She has been a voice in all of her struggles, whether with substance dependence and de-stigmatizing seeking professional treatment, or with breast cancer and the importance of mammograms. She was a beloved activist even before she became a First Lady, and continued to be admired and loved until her death, and her legacy will continue to live on.

Betty Ford and Her Struggle with Addiction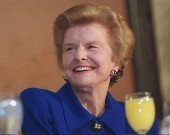 Betty Ford struggled with alcohol and prescription drug dependence, which began with a prescription for a pinched nerve. At 60 years old and three months after leaving the White House, her family set up an intervention for her to get professional treatment and go to rehab.
She wrote about being in rehab in her journal about how people from all walks of life and experience struggle and seek treatment, "You get better when you least expect to, when you're not even trying, when you're down by the coffee machine kibitzing with two black seamen who are playing cards. In my everyday life, I would never have met these men, but they and I helped to heal one another."
When I went to treatment I experienced the same thing; the amazing ability to connect with people from diverse backgrounds, diverse struggles, ages, whom I would have never have met or ever talked to, but together we were able to begin the healing journey.
Being a Voice for those Struggling
After leaving treatment, she was open and honest about her struggles when she said "Today I am a very grateful recovering alcoholic and I know firsthand that treatment does work."
This was a big deal back because it was rarer back in the '70s to admit publicly a struggle, especially as a woman, and helped put a face on alcoholism. "Somehow, it was all right for men to kind of kick back and sow their wild oats," the former first lady said. "But as far as women were concerned, it was a real stigma."
Betty Ford Clinic
In 1982 she founded the Betty Ford clinic with a friend, former ambassador to Belgium Leonard Firestone and since then it has helped treat over 90,000 people. She wanted to create a place where people could seek treatment without shame. Betty Ford also launched the careers of hundreds of medical professionals who specialize in addictions, and became a model for effective treatment.
She helped give a public face and voice for those who struggled with addictions and fought hard to help people understand that recovery is a lifelong process and journey.
As someone who has had a family intervention and went to treatment, I am grateful for the work she helped pave in addiction awareness and treatment. I am grateful for my parents who helped pay for treatment and for treatment centers all around the country providing a place where those struggling can get help without feeling the shame of addiction. There is no reason to struggle in silence, and there are places that provide.
A Hero and Legacy that Will Live On
Betty Ford was always a public voice, sharing all of who she was, what she went through, and how important addiction awareness and treatment is, and through her work helped de-stigmatize addictions and pave the way for many more people to receive help. Her voice helped others come forward, seek treatment, and share their struggles. It helped make it easier today for people like myself to share my story, my experiences, and help lessen the stigma, rid the shame in addiction.
One of my favorite quotes by her related to her not connecting with what an alcoholic was. There are a lot of myths and generalizations of people who stop drinking or using, and we don't have to hit the extreme low we often hear about. "My makeup wasn't smeared, I wasn't disheveled, I behaved politely, and I never finished off a bottle, so how could I be alcoholic?"
She helped open and break the mold of what people thought an addict was, and for that she is a true hero.
Please visit the website for more information on the Betty Ford Center whose mission is "We provide effective alcohol and other drug dependency treatment services, including programs of education and research, to help women, men and families begin the process of recovery."
Please follow me on Twitter (@VoiceinRecovery)
APA Reference
Sebelius, K. (2011, July 14). Betty Ford and the Legacy She Leaves, HealthyPlace. Retrieved on 2023, November 29 from https://www.healthyplace.com/blogs/debunkingaddiction/2011/07/betty-ford-and-the-legacy-she-leaves
Author: Kendra Sebelius
I think you are doing great work...thanking you for sharing your experience and it is really inspirational...
Leave a reply