Schizoaffective and Preparing for My Next Knee Surgery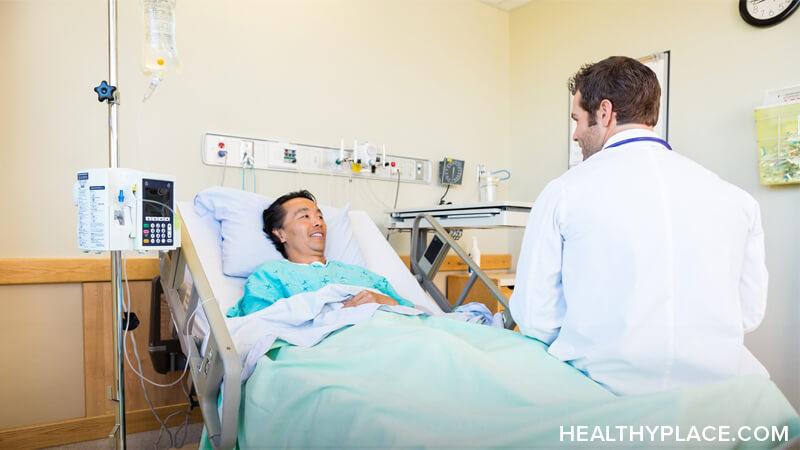 I've written a lot about my past knee replacement surgery in my right leg. But I have another knee replacement in my left leg in less than a month. Since I know what to expect, I can prepare better this time. Hopefully, because of this, my schizoaffective anxiety won't flare up as badly because of the surgery.
Schizoaffective Disorder, Surgery, and Narcotic Painkillers
One issue that resulted in the aftermath of my last surgery–and I think it would upset anyone, schizoaffective or not–was that, because of the heavy narcotic painkiller I was on, I often couldn't make it to the bathroom on time. So, this time, I'm going to bring lots of adult diapers. (My husband, Tom, calls them my "big girl pants" after the '90s jingle "I'm a big kid now" ad for Pull-Ups.)
I was on too high a dose of the painkiller last time, so I was groggy. That made the physical therapist think I should stay an extra night. Hopefully, that won't happen again because now they know to give me half a dose. Also, I'm going to go off the painkiller as soon as I can because it interferes with my antianxiety medication.
This surgical procedure messes with my schizoaffective anxiety. That's why I'm going to make a point of listening to music in my room. Music soothes my anxiety. One of my favorite musicians, Laura Veirs, is coming out with a new album on November third, so I'll probably bring that album and listen to that a lot, along with the usual suspects: Tori Amos, The Beatles, and Hope Sandoval. I might take The Smashing Pumpkins and Lana Del Rey, too.
Surgery with Schizoaffective Disorder Stinks
I'm not supposed to wear jewelry to the hospital, so I'm trying to think of something I can wear on my person that will make me feel less like a piece of meat in a hospital gown. Last time, I brought a Tori Amos t-shirt, but I didn't wear it the whole time I was there. Anyway, I wouldn't want to sleep in a T-shirt because I wouldn't want it to get grungy. Also, it's hard to put on and take off clothes because I will have a tube inserted into a vein in my arm that goes into an IV. I'm thinking of wearing my new purple bra as an escape from the "fashionable" hospital garb.
But let's face it: being in the hospital stinks. This whole situation of schizoaffective disorder and surgery stinks. I'm too young to have bone-on-bone arthritis in my knees. The only thing that doesn't stink is knowing that my knees will be healed soon and that I'll be able to walk in the forest this spring with my mom on our mother-daughter trip to Door County.
Learn more about why I'm dreading my second knee surgery with schizoaffective disorder:
APA Reference
Caudy, E. (2023, October 26). Schizoaffective and Preparing for My Next Knee Surgery, HealthyPlace. Retrieved on 2023, December 1 from https://www.healthyplace.com/blogs/creativeschizophrenia/2023/10/schizoaffective-and-preparing-for-my-next-knee-surgery
Author: Elizabeth Caudy