Business of Schizophrenia: Homelessness and Mental Illness
Schizophrenia or schizoaffective disorder doesn't have to stop you from having a business. Schizophrenic.NYC. founder Michelle Hammer, a native New Yorker, chatted with me about her business and how it helps homeless people with mental illnesses like schizophrenia and schizoaffective disorder in New York City.
This Business Helps Homeless People with Schizophrenia and Other Mental Illness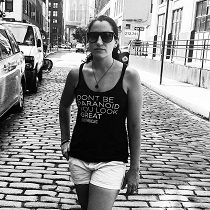 Hammer has schizophrenia and got the idea for starting Schizophrenic.NYC when she was riding the subway in New York City and saw a homeless man talking to himself, possibly a symptom of a mental health condition. "People who are homeless could be very normal with support," she says. "If I didn't have the support I have, I could easily be in their situation."
Hammer concedes it's hard to organize a company but she says, "It feels great to help people."
Schizophrenic.NYC helps homeless people in New York City by donating a portion of its profits to organizations that help the homeless with mental illness. The company makes t-shirts and other accessories. Some of the t-shirts are of inkblot tests that a person with schizophrenia or schizoaffective disorder who isn't on medication would see differently. Hammer alters the design and prints it in bright colors so that everyone sees it differently. This creates a dialogue about mental illness and mental health, as well as fighting stigma. And one of the company's slogans, "Don't be paranoid, you look great." lets us look at the situation with a bit of humor.
Challenges of Schizophrenia and Running a Business
I have schizoaffective disorder and, like Hammer, I work. My main schizoaffective symptom, besides mood swings, is that I hear voices from time to time. When I hear them, I feel like I'm in a trance but I take steps to quiet them and go on with my day.
Hammer talks to herself, and she describes the same feeling I have of being in "a different zone." When she's talking to herself, she's having a conversation with someone who isn't really there.
"I turn situations into stories that didn't really happen. I have to think about a situation, ask if it definitely happened, call friends," she says. Can she count on friends to give her a good reality check? "Yeah, totally," she says. Her company has forced her to be very open about her illness—"Everyone," she says, "knows I have schizophrenia and is supportive." She notes it's key to "be around good friends," and "if anyone is bothered [by schizophrenia], ignore them."
Hammer likes the fact that her company has forced her to be more open about her schizophrenia. "I didn't like having a secret, I like being open."
As someone with schizoaffective disorder, I marvel at her tenacity of living with an illness like this and starting and running her own company. I tend to get bogged down by things—it comes from the depression of the bipolar element of my illness, I suppose. For example, I freaked out when I heard about all the slashes to healthcare the Republicans are planning on making. Hammer just tries not to think about that very much and hopes things will work out for the best. At the same time, she's making a huge difference with her company. Maybe I should take a page from her book.
Check out Schizophrenic.NYC.
Find Elizabeth on Twitter, Google+, Facebook, and her personal blog.
APA Reference
Caudy, E. (2017, January 26). Business of Schizophrenia: Homelessness and Mental Illness, HealthyPlace. Retrieved on 2023, December 4 from https://www.healthyplace.com/blogs/creativeschizophrenia/2017/01/the-business-of-schizophrenia-schizoaffective-disorder
Author: Elizabeth Caudy
I'm extremely pleased to find this website.
I need to to thank you for ones time just for this wonderful read!!
I definitely loved every part of it and I have you book-marked
to look at new things in your web site.
Leave a reply