6 Ways Pets Help with Depression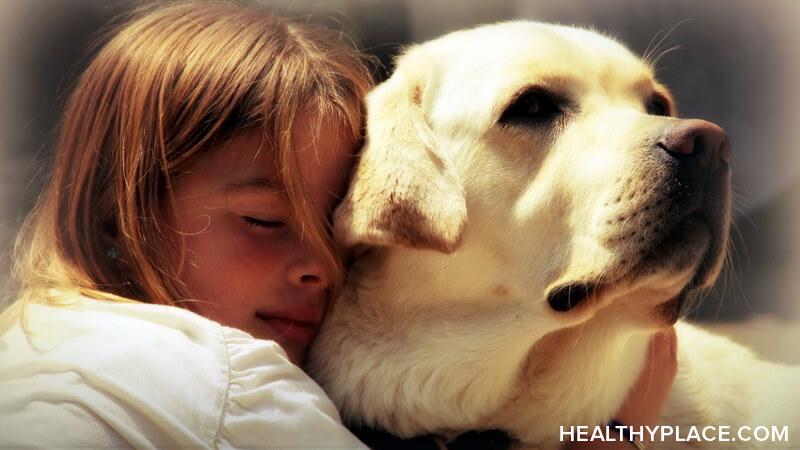 Pets help with depression. If you've ever felt the happiness that comes when your furry friends come to greet you, or felt the calming effect of grooming a fur baby, then I'm sure you would agree that pets can be good for our mental health. In fact, a survey by the Human Animal Bond Research Institute found that 74 percent of pet owners reported mental health improvements from pet ownership.1 Here are six ways that pets help with depression.
Top 6 Ways Pets Help with Depression
Pets offer love and companionship. When we're more depressed, we often feel unlovable and may isolate. Social interactions may become more difficult. We may find ourselves at home feeling lonely. Yet, if we have a pet at home, that pet can give us unconditional love and companionship. This can help us to feel less lonely and to feel loved.
The pet-human interaction changes us physiologically. Oxytocin has been called the "love hormone" and is released when we snuggle or bond socially.2 Oxytocin levels also increase when we have positive human-animal interactions. In addition, increasing oxytocin levels in the brain, positive human-animal interactions can help us to reduce fear and stress.3
Pets depend on us, giving us structure and purpose. Having structure and a schedule is an important depression coping tool. It gets us out of bed and on with our days. When we are depressed, it's easy to quit caring for ourselves and spend more time in bed. This can lead to an increase in depressive feelings. When we have pets, we need to feed and care for them at certain times of the day. Knowing that our pets depend on us not only can help get us out of bed but it can give us a sense of purpose.
Pets help with depression by making us be more social. Social interactions are often difficult when we're depressed. But, with our pets by our sides, it can be easier to interact with others. In fact, a study found that pet owners were significantly more likely to get to know people in their neighborhood than non-pet owners.4 If we have dogs, we can go to the dog park or walk our dogs in our neighborhoods. When we see other people out at the dog park or walking their dogs, we now have something in common and conversation can be easier to initiate. A few months ago, my daughter got a bunny. She has been inviting friends over to play with our newest family member. A friend of mine who has horses is able to invite friends over to ride the horses. Spending time with our pets can become social occasions.
Some pets help with depression by giving us more exercise. Pets such as dogs and horses need to exercise often in order to be healthy. Helping them to exercise allows us to get more exercise. Many running events will even allow dogs to run with their owners. (Be sure to check the race's rules ahead of time.) Spending time helping our pets get their exercise helps us, too.
Pets can be a source of distraction. Distraction can be a great tool when we are depressed. Pets can be a wonderful source of distraction from our depressed thoughts. When we spend time training our pets, our pets become better behaved and our minds become occupied. We can join clubs devoted to this type of pet or even breed of pet.
Please share in the comments if you have a pet and if it has helped your mental health. I look forward to hearing from you.
Sources:
APA Reference
Sedas, M. (2018, August 2). 6 Ways Pets Help with Depression, HealthyPlace. Retrieved on 2023, November 30 from https://www.healthyplace.com/blogs/copingwithdepression/2018/8/6-ways-pets-help-with-depression
Author: Michelle Sedas
My life has been full of living nightmares. But, one of my favorite passions are my fur babies, fur sure! They do help to distract me from thinking about the traumas and my depression. They're so full of personality and humor! So, here''s to these amazing beings!
Having a dog and a cat helps me feel lovable. When people are a disappointment the unconditional love a pet gives goes toward feeling wanted and needed.
Play time is important too as puts some fun in my day. I'm grateful to my dog and cat and blessed to be graced by their presence.
Leave a reply