Fight January Depression with Creativity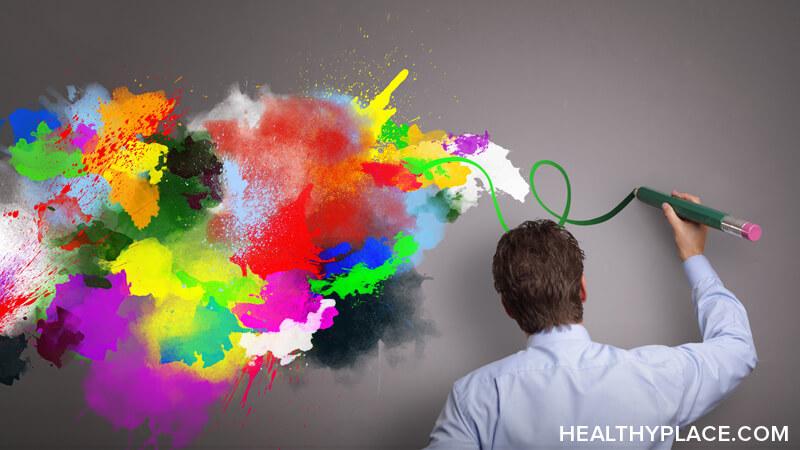 January depression can be difficult (as depression can be during other winter months), but creativity can help you fight depression and hopefully find some ways to enjoy winter with depression. After the holidays, it can be hard for some of us to get back into the mundane day-to-day routine, and depression may only exacerbate that feeling. Finding creative ways to counteract January depression is essential if we're going to find pleasure in our daily lives, especially during the bleakness of winter.
Creative Tips to Fight January Depression
Declutter. While this might not seem like a creative activity, it is actually a first step in preparing yourself for creativity. Looking at a fresh, clean slate can get the creative juices flowing. Also, a messy and cluttered home tends to make depression worse. Give yourself a new start by surrounding yourself with a clean and beautiful space.
Redecorate a room. This does not have to be a big-budget affair. You can simply add a few brightly-colored pillows to lift your mood during the dark days of winter or add some vases of fresh flowers. If you're up to it, you can rearrange furniture or paint the walls a new color (Create Happiness, Hope and Harmony With Color). Find a creative way to change a space that makes it a haven for you.
Try a new haircut or hair color. While I know that self-care is hard for those of us who battle depression, it's still necessary (Depression Self-Care for When You're Really Depressed). Regular haircuts are important, and we should be getting them anyway. So, while we're in the salon, why not get creative and try a new style? And, while we're being creative, why not go ahead and try a new hair color, too?
Read a book that challenges you. Reading is a healthy way for me to cope with my depression. Many of you may have already discovered the pleasure of reading, but how about taking it one step further? Join me. I'm challenging myself this year to read a book by Ernest Hemingway. I've read most of the classic authors, but somehow I missed all of his works. Find a book that challenges you and read it this year. Start this month and don't allow January and the rest of winter to be a season of worsening depression; instead, allow it to be the season you used creativity to conquer that book you have always wanted to read but thought you never would.
Discover a new hobby. Have you always wanted to paint? Now is the time. Do you want to learn to play a musical instrument? Go for it. I realize depression causes a lack of motivation, but finding creative outlets is beneficial and therapeutic during January depression. Also, there are many online learning opportunities, so you might be able to find what you need without having to leave the comfort of your home.
With some thought and planning, you can put creative strategies in place that will turn January into a month you look forward to seeing appear on the calendar. While it used to be the month in which I struggled most with the winter blues, I've found that using creativity has helped me see January as the beginning of new and exciting opportunities.
APA Reference
Smith, J. (2018, January 11). Fight January Depression with Creativity, HealthyPlace. Retrieved on 2023, December 8 from https://www.healthyplace.com/blogs/copingwithdepression/2018/01/using-creativity-to-fight-january-depression
Author: Jennifer Smith
RoseMarie, I wish we lived in the same town so I could take you to lunch and or a movie! I don't know if you get the paper, but there are usually activities going on that are free, and some are discounted for being a senior. I have even gone a little late and they have allowed me to just slip in without paying. You'd be surprised how thoughtful people can be if you are honest about your situation! Jennifer also gave some great information! Daily radio broadcasts that are free also! Again, some are available at a reduced rate for seniors. Can you call a friend who drives and make a point to get out at least once a month or once a week or once every other week? I don't know if you live where the buses run, but that is an option. Where we live, they will actually come to your house and pick you up if the bus stop is too far from your house if you are a city resident. I will keep you in my prayers. When my father in law passed away, my mother in law made a point to make new friends at the YMCA where she works out and now she goes to lunch with several ladies several times a month. It takes a little bit of effort, but you can get out there and connect. Staying isolated is the worst thing you can do. Trust me, I've been there!
Thank you for the input, Cherie. You've listed some great options.
Intelligent article, however, even the mundane, during a bout of major Depression [that has lasted a long time] can reduce the confidence to nothing. For me, a recent trip to the Hair Salon was a wake up call as to just how low my self esteem/confidence is. Also many with Depression have not the money for all these things, being stuck in a rented small space without family support, losing friends through your illness and having spent Xmas alone becauseyou don't have a family means January is just another dark, lonely month. Again many people don't drive and I am one of them, in my 60s, it is nigh impossible to get to certain classes, they are extremely expensive too. I am in my late 60s.
I completely understand. I've lost several "friends" due to my depression as well. If you have internet access, look for free online classes that interest you. Also, there are several books that are available to read free online. If you're able, try going outside for at least fifteen minutes each day or opening your curtains or blinds to let in some sunlight. Is there a local community center that offers activities for senior citizens and also provides transportation? That might be something worth looking into.
Leave a reply