Talk About Your Feelings When You're Depressed
In childhood I really believed the phrase, "If you don't have anything nice to say, don't say anything at all."
I learned to smile all the time so that people liked me. I rarely ever complained, since I knew that so many people in the world had things in their lives far worse than I could imagine. It's no wonder that my family and friends only learned about my depression symptoms and feelings when I became actively suicidal.
I do a lot of writing about depression now, but even under that topic I sometimes find myself wearing a mask of positivity. It's like I create this online persona of this capable and strong mental health superhero, even though I still struggle a lot with my depression.
I'm afraid that people judge me and my mental health by my blog writing. If I write in a positive tone, I must be doing great, right?
In reality, I think I still live by that rule from my childhood. I tell myself that people with depression need hope, not complaints from me. I put way too much pressure on myself to stay upbeat even when writing about depression.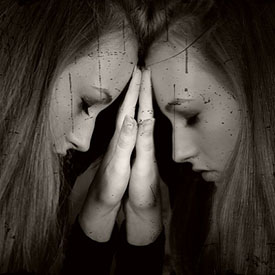 So here's some truth, because lying about how I'm feeling is a disservice to others, especially when I'm talking about depression.
I feel overwhelmed, scared, alone, and forgotten. I feel raw, ugly, broken, and used. I feel tired of living and tired of trying and just so tired of being tired. I'm exhausted from holding up this mask of okay, strong, and happy all the time. I'm not. I'm a human being like everyone else, a human being with depression.
Yet, I know that tomorrow I will wake up feeling more positive because I always feel better in the mornings than I do in the evenings. I'll remember that there's still some benefit in faking it until you make it. Sometimes smiling really does make you feel happier.
You Aren't Alone With Your Feelings of Depression
It comforts me to think that we're all just learning how to be human beings. No one was born with an instruction manual. Mental illness doesn't mean that we're flawed or broken or completely alone, even when we feel that way.
Life is about feeling. Yes, it's hard sometimes, or a lot of the time, especially if you have depression. Expressing your feelings always helps, even if the feelings aren't ones you want to be having.
Pain doesn't have to be our burden alone. No one is immune to pain in this life, so those of us with depression can talk about pain and help others deal with it when it arises in their lives. You never know, someone might surprise you by saying they've felt something similar to what you're feeling. You can't know until you risk letting yourself be known.
As of right now, both you and I are released from the ridiculous rule that states if we don't have anything nice to say, don't say anything at all. If someone tries to tell you otherwise, refer them to this post. I know what I'm talking about.
You can also find Erin Schulthies on Twitter, Google+, Facebook and her blog, Daisies and Bruises: The Art of Living with Depression.
APA Reference
Schulthies, E. (2014, July 17). Talk About Your Feelings When You're Depressed, HealthyPlace. Retrieved on 2019, July 17 from https://www.healthyplace.com/blogs/copingwithdepression/2014/07/talk-about-all-your-feelings-when-youre-depressed
Author: Erin Schulthies