Wedding Bell Blues and Depression
I mentioned to my psychiatrist that my sister is getting married this week and my doctor reminded me that if I have mixed or depressed feelings at the wedding not to panic because this can be normal. This made me think – for those prone to depression, maybe weddings are similar to the holidays in that they can provoke the exact opposite of what you think you should be feeling. At a very "happy" event like a wedding, we can feel pressure to feel very good. And what if we don't?
Weddings Can Be Depressing
If the thought of attending a wedding makes you feel this way, you're not alone. My unscientific search of online musings on this subject revealed a cornucopia of mixed and depressive feelings about weddings ranging from concerns about singledom, to wondering about whether the union would last, to thoughts about the cheesiness of the general wedding experience. In fact, when I typed into Google, "Weddings are," the auto-fill jumped in with 5 negative suggestions (weddings are: stupid, a waste of money, boring, selfish, dumb) before a nod to weddings are "fun," before leaning back in the original direction with wedding are: expensive, awkward, and out of control.
What is it about weddings that makes us feel potentially depressed? Besides the aforementioned pressure to feel good in a very outwardly happy setting, there's social pressure. There's nothing like a major life-event like a wedding to make us question our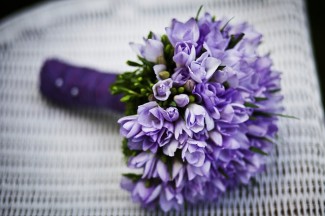 own path in life and have other people question us as well. For some reason, it's socially acceptable to be quizzed as a single person as to when you're getting hitched, when you're married as to when you plan to have children, and when you have children as to what you plan to do with the rest of your life. These aren't the easiest questions to answer in life and this is particularly true for those of us who are prone to depression.
Life Is Not Perfect – and That's Okay
Life – unlike a wedding – is not picture-perfect. There are ups and downs, mood swings, and plenty of starting over. I don't have the 2.5 kids and a house in the suburbs that when I was younger (and pre-diagnosis) I just assumed I would have at this point. Mental health recovery has turned out to be also about accepting who I am even when it doesn't match up with who I thought I would be 10 or 20 years ago.
So how can we move more in the direction of self-acceptance when we're invited to a wedding and our moods are triggered?
First, if you're feeling depressed and manage to attend a wedding in the first place, give yourself a major pat on the back. With a disease that makes it feel impossible to get out of bed, there's nothing quite like not only doing that, but also putting on formal clothes and then being pressured to dance the Electric Slide by super-happy, super-insistent people. Seriously, kudos to you.
If it's pre-wedding, healthy prevention is key. Take good care of your sleeping, eating, and exercising habits in the days leading up to the event. Schedule an extra therapy session, if possible, and strategize for the big day.
To deal with anxiety, remind yourself that you are in the moment and that if and when something negative arises you will be able to handle it then. Until then, do your best to leave it alone. Remind yourself that this is one day and that you will get through it step by step.
APA Reference
Tazzi, J. (2014, June 26). Wedding Bell Blues and Depression, HealthyPlace. Retrieved on 2023, September 23 from https://www.healthyplace.com/blogs/copingwithdepression/2014/06/wedding-bell-blues-and-depression
Author: Jennifer Tazzi