Stopping Depression Stigma Starts With You
Stigma is a negative stereotype often associated with mental illnesses like depression. After we receive a depression diagnosis, many of us start to worry that people are going to call us "crazy," or use other offensive language while judging us for having symptoms of depression.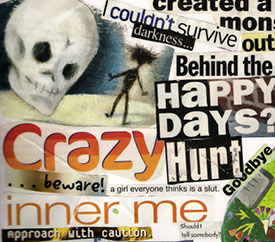 My biggest problem with depression stigma has been self-stigma: the harsh ways I used to judge myself for having depression.
I grew up with a strong perfectionistic drive and have always judged myself harshly. When my depression symptoms worsened to the point of really interfering with my life, I became even meaner with myself.
To top it off, having a doctor diagnose me with depression just made me hate myself more.
Learning About Depression Can Help You Stop Self-Stigma
It took years of treatment for me to learn how to stop beating myself up for having depression. I learned that depression is a common illness with many treatment options. No one is at fault for developing a mental illness, ever.
Once I stopped thinking of my depression as shameful, I realized that maybe the world outside of me might not judge me harshly, either.
<
Now I feel confident enough to speak up against stigmatizing language I hear in the media and in everyday conversations. One way you can stop stigma and discrimination against people with mental illnesses is to ask yourself if the headlines you read and the language you hear uses stereotypes or belittles people with mental illnesses. If so, don't be afraid to speak up. Change happens slowly, but we all have the power to change the world for the better.
You can also find Erin Schulthies on Twitter, on Google+, on Facebook and on her blog, Daisies and Bruises: The Art of Living with Depression.
APA Reference
Schulthies, E. (2014, April 10). Stopping Depression Stigma Starts With You, HealthyPlace. Retrieved on 2023, December 4 from https://www.healthyplace.com/blogs/copingwithdepression/2014/04/stopping-depression-stigma-starts-with-you
Author: Erin Schulthies
Yeah,time out for feeling ashamed ,I have outed myself this past year on social media and lost lots of folks whom meant nothing to me anyway,lol,who cares ,as long as I am free to be me ,I feel comfortable in my own skin ,no need to be motivated by others ,I can do all things through Christ which strengthens me,this means also becoming more opened to outing ourselves so people won't be able to out us before we're prepared to be public.I now found there is no reason to be ashamed and hidden at home because of some dumb stigma !
I am glad tat I am finally realization tat I need help n I don't know how to get it....I am trying to figure out how to live again.... Will I ever find the right place for me? Is it all me or am I crazy????
In the video she says that depression is a mental illness. A mental disorder and mental illness are not the same thing, right? I just need clarification because I've read conflicting information on other sites and articles
I have found who my friends are and who they aren' based on self-disclosure. Since I have gone on SSDI it is easier to be 'out' as I don't have a workplace to worry about. I have come out within my small-town church in this way: when I was in the hospital and I made my pastor announce to the congregation that I was in the psych ward at x hospital. I actually got cards and letters when I got home, and people called to ask how I was. No more 'dirty little secret.' I even got some letters and thank yous from people in the congregation who had suffered depression. I think it did the church good and it made my life a lot more honest.
This is me. Practically word for word. It took me a long time to I my illness. I was also drug addicted and alcoholic. Getting the right psychiatrist and therapist and support group has changed my life. As for the stigma. I have a great group of people in my life that know me a long time and are so happy to see me get well. As for the people that don't understand, well their not worth my time and honestly I don't care what they think. I don't owe anyone an explanation
Leave a reply