How to Trust Yourself and Feel Confident Making Decisions
Wouldn't it be nice if you could trust yourself and feel confident in decision-making? You may question every single thing you do, hesitate or feel like nothing you do is good enough; but there was a time when you did trust yourself. How great would it feel to reclaim that trust? These simple tips can help you learn to trust yourself again and feel more confident when making decisions than ever before.
Firstly, it's important to think back to how and when you learned not trust yourself. What situations and experiences lead you to question who you are and the things you do? This week, I was talking to some very smart women who all admitted that they have a hard time trusting themselves. One expressed that she always feels others are right and she's usually at fault. This week she had a particularly stressful time. She said, "I know I paid the bill. I asked my friend who was with me if she saw me put it in the mailbox and she said I did, too."
Her anxiety was coming from a call she received saying she hadn't paid a bill she thought she had sent. She began to think about all the times that she was forgetful in the past or how the people who called may be right and her reality was wrong. I asked her, "What makes you think that you did something wrong this time? Could you be right and they be wrong?"
This was a question she had never pondered. She explained that she blames herself when things don't work out, that she is forgetful and that maybe she didn't send it to the right person. After checking the facts and retracing her steps, she said, "I think they either didn't get the check I sent or they're not telling the truth. I'm about 99 percent sure I sent it."
Mindfulness Helps You Learn to Trust Yourself and Feel Confident Making Decisions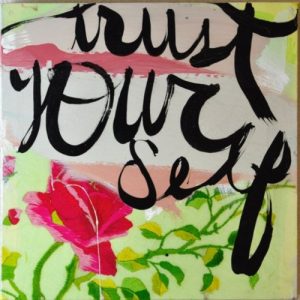 Every time you overthink, question yourself or get stuck in blame, shame or doubt, you aren't trusting, which means you are not mindful. This makes it hard to feel confident about anything. It's a vicious cycle. And the more you put off making decisions or get stuck in doubt, the more insecure you'll feel, in general. The most powerful thing you can do is to become aware of when your mind is going to the place of self-doubt and decide to turn your mind instead (How Mindfulness Can Increase Self-Confidence).
You can get mindful of something else to calm your nervous system and get your brain and body to connect again. It can be as simple as washing your hands and noticing the temperature of the water, how the soap smells and feels and if your hands are clean. It can be focusing on your breathing for two minutes and getting back into your body. Your body knows what you need and your mind often struggles to trust it due to life experience and insecurities we've all picked up along the way, but grounding yourself can return your sanity.
Small Victories Can Help You Trust Yourself and Feel Confident
Think of everything you do each day, there are so many things you aren't aware of that involve trusting yourself and feeling confident and secure in making decisions. Try to answer these questions to help you become aware of little acts of trust that you engage in daily.
Growing up what did you do for fun? What were your favorite activities? What movies did you enjoy? What friends did you like? What games? Think about how you knew you liked these things, even if other people didn't approve. Do something that you feel is fun or enjoyable.
Think of an experience that recently brought up feelings of frustration or anger. Did you handle it differently than you would have years ago? Did you accept it rather than ignore it? Did you feel proud of how you handled yourself?
Did you eat something recently that was really satisfying? How did you know to trust your body or to make that choice? Very often we hesitate on pleasurable experiences because of all the insecurities in our minds. When you learn to trust your body, listen to what it wants and needs, you are trusting yourself.
Think of five decisions you made this week (start small, like ordering your coffee just the way you wanted it). Look at all the small things you do everyday that require you to trust yourself. For example, knowing when to leave the house to get somewhere on time, picking the restaurant or deciding what to eat for dinner, knowing you have enough money to purchase the item you've been wanting, trusting that you like that item. These small acts of knowing are big. They help you develop the confidence to trust yourself again.
What are 10 things you enjoy doing? Make a list. How do you know that you enjoy them? There may be no reason, in particular, but keep in mind that you know they bring you pleasure or evoke happiness.
When you start to notice the small things you start to trust yourself again and feel more confident making decisions. Trusting yourself takes time, but be aware of all the little things you do that require trust. Stay mindful and keep track of all the ways you really do trust yourself.
Emily is a psychotherapist, she is intensively trained in DBT, she the author of Express Yourself: A Teen Girls Guide to Speaking Up and Being Who You Are. You can visit Emily's Guidance Girl website. You can also find her on Facebook, Google+ and Twitter.
APA Reference
Roberts, E. (2016, March 11). How to Trust Yourself and Feel Confident Making Decisions, HealthyPlace. Retrieved on 2023, December 6 from https://www.healthyplace.com/blogs/buildingselfesteem/2016/03/how-to-trust-yourself-and-feel-more-confident-making-decisions
Author: Emily Roberts MA, LPC