How to Embrace Being Alone and Build Self-Esteem
So many people are afraid of being by themselves, but embracing alone time is essential in building strong self-esteem. I know how hard it can be to sit with your thoughts and emotions, in this vlog I share how my self-esteem really improved when I learned that being alone didn't mean I was lonely. I found that "me time" was as an opportunity to get to know myself. You, too, can embrace being alone and build your self-esteem.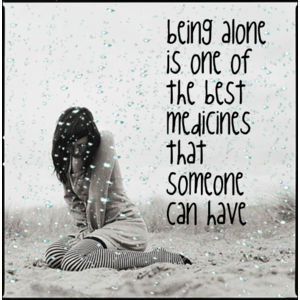 So many people prefer to spend nights alone with their favorite television shows, order in, and avoid being by themselves in public. I was one of those people, but then I got out of my comfort zone and became much more confident. It's really important to learn how to be comfortable with yourself. Even if it's awkward in the beginning, it gets easier. Try doing something alone (no television, phone, or distractions from others) for a few minutes each day. This such an awesome opportunity for you to develop more self-esteem and learn to love the skin you are in.
How You Can Embrace Being Alone
Remember, it may be odd to head to a coffee shop or grab lunch and sit with yourself all alone. You may have negative thoughts or worries that others are judging you. The truth is, this is just your insecurity. The more you practice embracing this alone time, and think of it as self-care or an opportunity to get to know yourself better, you will feel more confident and positive each time.
Emily is the author of Express Yourself: A Teen Girls Guide to Speaking Up and Being Who You Are.You can visit Emily's Guidance Girl website. You can also find her on Facebook, Google+ and Twitter.
APA Reference
Roberts, E. (2014, November 13). How to Embrace Being Alone and Build Self-Esteem, HealthyPlace. Retrieved on 2023, October 1 from https://www.healthyplace.com/blogs/buildingselfesteem/2014/11/how-to-embrace-being-alone-and-build-self-esteem
Author: Emily Roberts MA, LPC
Hello Emily!
I just wanted to thank you for reminding me of how awesome it is to embrace being alone. Thank you for reminding me that being alone isn't a curse. I have my own blog and as a new and single mother I would wrestle with the idea of not having someone close to love on. However, God is showing me that I have so much to offer the world through simply spending time with myself. Journaling at a coffee shop or just going to dinner by myself really and truly gives me an opportunity to allow God to speak to me and also gives me an opportunity to meet new people. So thank you again for being so awesome sharing this food for thought.
Hey Robin! Thanks for the props I apologize for the delay in responding. I'd love to read your blog! Can you send me the link or message me on social media @GuidanceGirlEm. I'm glad you are using self-care (AKA alone time) and find that it is helpful, not scary. My best times for creativity come when I'm alone.
You rock!
Looking forward to connecting.
Emily Roberts
Thanks Emily. As someone who is healing from the issue of divorce, I have had to learn and relearn the concept of being alone vs. with others. Both have value.
David
Thanks for your comment David. I agree, it can be uncomfortable at first but is a beautiful way to build a relationships with ourselves, making us more comfortable with others.
Take Good Care,
Emily
Leave a reply