The Facts on Depression in Teen Girls and Self-Esteem
Low self-esteem in teenage girls isn't just a phase, it can be a sign of depression. You can blame hormones, blame the media, blame whatever you want but don't ignore the signs and causes of teenage depression. So many professionals and parents still don't have the mental health awareness to see that teen depression is a big deal, especially in girls. The more people brush it off as "just part of being a teenage girl" or say, "she's just insecure," the more dangerous it becomes.
Jade, a precious and painfully shy 17-year-old came to see me with the intention of feeling "happy again." This young woman, has an IQ that's almost Mensa worthy, achievements that will surely secure her a scholarship to any college, and two hospitalizations for attempting to end her own life.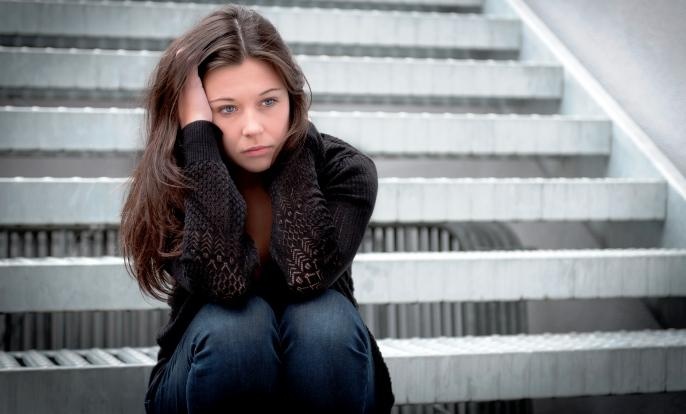 Facts About Depression in Teen Girls
A survey released by the World Health Organization in May found depression to be the number one cause of illness and disability in adolescents worldwide. "The world has not paid enough attention to the health of adolescents," says Dr. Flavia Bustreo, Assistant Director-General for Family, Women and Children's Health. "If adolescents with mental health problems get the care they need, this can prevent deaths and avoid suffering throughout life."
Jade's depressed mood and low self-esteem was minimized. Her pediatrician said it was "normal girl stuff." Other professionals said it was "just a phase," which certainly didn't help her or her family find treatment. Jade isn't alone. In the United States, fewer than half of adolescents with a mental health problem receive treatment. According to the Substance Abuse and Mental Health Services Administration in 2011, 1.4 million girls ages 12-17 in the United States experienced an episode of depression.

Is Your Daughter Depressed?
Teen depression signs and symptoms include changes in your teen's emotions and behavior. As observers you are likely to notice if something is off or awry. If you have noticed that any of these are persistent or present themselves in your teen, don't wait to get on the phone with your school's counselor and ask for resources or for people in your area that treat teen girls. Head to a mental health professional or call your doctor.
Watch for changes in behavior, such as:
Spending excess time alone, away from family and friends
Web searches for depression, suicide, or following social media handles that are provocative (pictures of self-harm, eating disorders, or suicidal topics)
Conversations focus on hopelessness, (What's the point?) or are predominantly self-loathing (I'm not good enough).
Lack in confidence or ability; avoiding activities she used to enjoy or excel in; fearful of what others will think; speaks with self-doubt
Anxiety; unable to let go of thoughts, worries, or anxiety-driven behaviors
Inability to be alone with their own thoughts. You may notice that they have to constantly be connected to friends or strangers online, needing to be around people physically, or always be physically or virtually connected.
Insomnia or sleeping too much
Changes in appetite, such as decreased appetite and weight loss, or increased cravings for food and weight gain
Irritability or restlessness
Change in school performance, abrupt change in peer groups, or frequent absences from school.
To learn more about other signs and symptoms of teenage depression please visit the Mayo Clinic's Article. To help your daughter develop self-esteem check out: Self-Esteem in Girls: Helping Her Thrive.
Emily is the author of Express Yourself: A Teen Girls Guide to Speaking Up and Being Who You Are.You can visit Emily's Guidance Girl website. You can also find her on Facebook, Google+ and Twitter.