Give Your Child The Gift of Confidence
This holiday season give the child on your list a gift that will inspire creativity and build your child's confidence.
The hot toy of the season, must-have technology gadget or video game, or plastic princess have a short shelf life. In a few hours or days, it will be just another "thing". Instead, gift them with something that encourages their creative minds, bonding, or helps build self-esteem in children.
Boost Your Child's Self-Esteem and Self-Confidence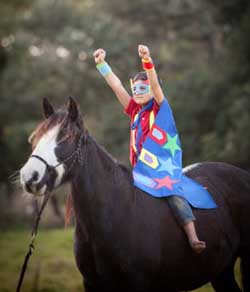 Every child deserves to feel like a superhero, and every superhero needs a cape. One of many fantastic Seedling products, Design Your Superhero Cape, encourages girls and boys to think creatively, ask questions, and gain life skills while making something one-of-a-kind. They have over 250 products and many are award winning toys and projects for kids. Their mission: "we supply the materials and let your kids supply the big ideas." All toys encourage the natural process of thinking and doing, teach skills for creative thinking and problem solving, and encourage kids to seek answers and help from adults, building relationships and communication skills.
BYOU "Be Your Own You" Magazine, published by Heartlight Girls Publications, LLC, is for girls ages 7-15 and helps build self-esteem in fun and empowering ways with features on positive celebrity role models, stories about real girls making a difference, tips, advice, games, crafts, contests, jokes, and much more. Topics include friendships, bullying, inner beauty, empowerment, community service, and other timely subjects to help today's girl glow from the inside out.
Unstoppable Me!: 10 Ways to Soar Through Life, Hardcover, by Dr. Wayne W. Dyer, Dr. Kristina Tracy. Following in the footsteps of Dr. Wayne Dyer's first children's book, the bestseller Incredible You!, this work goes even further toward expressing Wayne's positive message for children. In Unstoppable Me!, Dr. Dyer teaches children how to hold on to the no-limit thinking he believes they were born with, rather than just trying to "fit in." In doing so, they can learn to truly enjoy life and become unstoppable as they strive to attain their dreams.
Little Passports monthly adventure kits are fun, educational monthly kits which encourage learning about new and exciting places, as well as activities.
Awesome Apparel. Pigtail Pals was born in May 2009 with the mission to Redefine Girly! I believe girls need to see messages in early childhood that show females being smart, daring, and adventurous. As the saying goes, "You can't be what you can't see." Full of Awesome Apparel. What kid doesn't want to feel awesome everyday? Pigtail Pals and Ballcap Buddies" creator now offers many tee designs that feature boys. I think our children deserve more. I think they deserve better. I think it is time to redefine girly and reclaim boyhood. The art and messages on my empowering apparel and products shows children that they can dream in any color with no limits to where their hearts and imagination take them. Go!
Go! Sports Girls™ are age and size appropriate dolls that encourage embracing your uniqueness. They do not encourage an older or overly mature image. The image is innocent with a subtle yet strong message - appreciate and be true to yourself! The dolls are currently available at retailers nationwide as well as through a variety of online vendors.
Also check out these books that build confidence in kids and adults.
Emily is the author of Express Yourself: A Teen Girls Guide to Speaking Up and Being Who You Are.You can visit Emily's Guidance Girl website. You can also find her on Facebook, Google+ and Twitter.
APA Reference
Roberts, E. (2013, December 12). Give Your Child The Gift of Confidence, HealthyPlace. Retrieved on 2023, December 6 from https://www.healthyplace.com/blogs/buildingselfesteem/2013/12/give-your-child-the-gift-of-confidence
Author: Emily Roberts MA, LPC
In building self-esteem, kids also need opportunities to demonstrate their competence and feel that their contribution is valuabl
Leave a reply