The Happy Holiday Gift Guide
Every year around this time, I find myself looking for unique and meaningful gifts; ones that will be remembered far beyond the holidays. For anyone on your list, look for something that will inspire confidence, increase motivation, boost mental health, and give long-term joy to your friends or family.
Give Laughs - A Great Holiday Gift
A funny comedy or stand-up DVD, hilarious book that makes you laugh out loud AKA Chelsea Handler or for a guy on your list Justin Halpren's I Suck At Girls, too funny! Try a good series on DVD - Arrested Development or The Office. Make sure you know their style of humor, otherwise they may not find it too funny. Laughing is not only good for boosting endorphins, it can be a form of exercise, burning about 50 calories in 10 to 15 minutes, according to Vanderbilt University.
Give The Sweet Stuff
Dark Chocolate, in small doses, is a heart healthy serotonin boost. Not only will it make anyone smile, it has amazing health benefits. The National Institutes of Health reports the flavonols reduce heart attacks by reducing the blood-clotting platelets. It also helps fight high blood pressure, strokes, cancer development, and boosts brainpower.
Give Relaxation
The Holidays are super stressful and, lets be honest, so are many times throughout the year. Give a gift certificate for a massage, manicure, or even a scalp massage. Massage, just being touched, soothes sore muscles, helps the immune system, and provides relief for depression and anxiety. The receiver will feel extremely grateful, trust me! One year a girl friend of mine wanted to try yoga and never went to a class, so I bought her a package of classes and she finally went, now she goes all the time. (Read how to increase your self-esteem with self-care.)
Give Motivation
A gym bag, gift certificate for a unique gym class, workout clothes, or yoga mat will motivate your friend to get moving. Have a chef on your list? Try getting them a new cookbook, tear-off calendar with daily recipes, or a new gadget for the kitchen. To increase inner motivation try a daily calendar of inspirational quotes, I love the Louise Hay daily affirmation calendar. Things that inspire can also help with building self-esteem.
Give Your Skills
One of the most popular gifts at our Holiday White Christmas Party was a homemade present, where the the receiver made her famous pumpkin muffin mix and put it in an adorable tin. She put a lot thought into it and it was fantastic. A friend who is an artist, made beautiful and unique prints for his friends. One-of-a-kind gifts can't be replicated and therefore make the recipient feel special.
Give Light
In the winter, as the days get shorter and darker, things can get a little depressing. Changes in weather contribute to Seasonal Affective Disorder (SAD) in many people. Specialized light therapy for treating seasonal affective disorder may help. These full-spectrum lamps promote healthy levels of serotonin and melatonin, and also stimulates Vitamin D. Regardless, it's much brighter than regular bulbs. Also, a beautiful scented candle makes your recipient think of you every time its lit, relaxes their mood, and provides a lovely aroma.
Give The Kiddos
Got a kid who could use a little snuggle or needs some self-soothing relief, these toys from The Sensory Spectrum Blog are great. They are practical and provide sensory relief. The swings are fantastic and an indoor trampoline-who doesn't need to get out some energy out!
Give A Good Read
I love great self-help books or ones that spark creativity. A unique coffee table read that highlights their interests makes your gift memorable for years to come. A colleague who knew I was interested in Salvador Dali gave me a book of his work and history, which made me feel like they were really listening to our conversations. It is special to receive something that you know was purchased just for you.
Everyone can use a little more happiness. I really like Instant Happy by Karen Salmansohn, with stylishly designed "thought interventions" to teach your old brain some new tricks and build self-esteem. With witty sayings, arresting graphics and a dose of cheeky tough love, the perfect inspirational self-help book for people who don't have the time or patience for self-help books!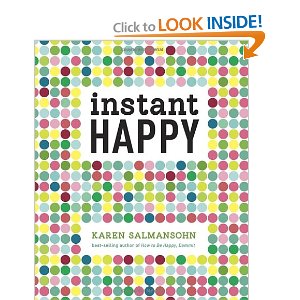 Give Memories
A journal is always a great mental health gift. Everyone can benefit from writing down their thoughts and when given these bound thought keepers, many are likely to use them! So find a practical, beautiful, or organic notebook and give a gift that someone will use (and think of you) everyday.
Picking the right gift can be a stressful task, however don't let it ruin your holiday! If it comes from the heart and your intention is to bring joy to someone's day, it is likely to be well received. Good luck shopping for those special people in your life and have a happy holiday.
Emily is the author of Express Yourself: A Teen Girls Guide to Speaking Up and Being Who You Are.You can visit Emily's Guidance Girl website. You can also find her on Facebook, Google+ and Twitter.
APA Reference
Roberts, E. (2012, December 19). The Happy Holiday Gift Guide, HealthyPlace. Retrieved on 2023, November 29 from https://www.healthyplace.com/blogs/buildingselfesteem/2012/12/the-happy-holiday-gift-guide
Author: Emily Roberts MA, LPC
All those eight gift indicates the useful aid in dealing with holiday stress in this season of year.Surely, to give laugh is the most pleasant gift for anyone, who is sensitive on holiday disturbances.This kind of giving holiday present is thorougly conditioned by personal preferences of subject who is under holiday stress. It is important to make joyful effect in emotional state on person with holiday stress. The others seven recommengations, also exhibit an appropriate way to overcome unpleasant holiday events. But the sophisticated manner to face with holidays emotional burden is our psycho-social skill to chsnge social situation in order to soften eventuals frowing momments along holiday celebration.
Leave a reply