Buyer-Beware Therapy: Why You Should Know Your Therapist's Qualifications
Recently, I took the bus home. Normally, that's not "interesting" but this trip was because the driver got lost. Seriously. She even asked passengers for directions on her route. So what does this have to do with therapy? Plenty. If you get an unqualified or inexperience therapist, you may end up wandering just like this bus driver did.
Make Sure Your Therapist is Trained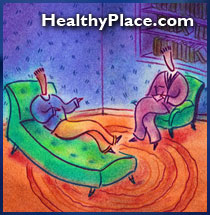 When I lived in Texas, anyone could be a therapist. You did not have to have an education or any kind of training--all you had to do was call yourself a therapist and pow!-you were a therapist. You can probably see the problem already. Well, I didn't, so learn from my mistake.
When I first developed symptoms of mental illness, my friends dissuaded me from seeking counseling at the university's counseling center and urged me to go to the church's "Center for Biblical Counseling". I didn't ask what "Biblical counseling" was or what the qualifications to be a Biblical counselor were. I just went because that's what was expected of me.
The problem was the counselors had very little training in mental illness, chalking it up to repressed memories or demon possession. I later learned that the minimum criteria was to read a book about theophostic counseling, unless the therapist was working with people with "multiple personality disorder" caused by "Satanic Ritual Abuse"--then the therapist had to attend a theophostic counseling seminar.
The first session was an assessment of my issues. The second and final session was a discussion of some early childhood experiences, after which I got asked to leave and told "Don't come back until you're willing to give up your anger." No properly-trained therapist would ever have done this.
In addition to this, although I detailed incidents of child abuse, they never reported it or encouraged me to report it--unprofessional at the very least, illegal at worst. After a botched involuntary exorcism, I sought help at the university counseling center--with a licensed psychologist who had lots of experience working with "very damaged" people from that church.
The university counseling center was able to help me hold it together long enough to graduate, but I sometimes wonder if I would've had to have received as much counseling as I did had it not been for the debacle with "Biblical counseling".
Understanding Your Therapist's Credentials
Know your alphabet
The joke at the church was "alphabet soup". But knowing and understanding the acronyms after a counselor's name can save you a lot of time and trouble. Some of the more popular ones:
MSW--Master's in Social Work. This typically takes two years to complete, and emphasizes overcoming social problems. Many MSWs provide counseling within a clinical specialty or to a specific community--for example, one community mental health center near Indianapolis has a therapist for the deaf.
LCSW--Licensed Clinical Social Worker. They usually have an MSW plus several hundred hours practice before taking a state licensing exam. LCSWs can provide mental health counseling as well as daily living issues.
Ph.D.--Doctor of Philosophy. A clinical psychologist often has this type of degree. It is important to know which field of psychology the Ph.D. is in, for example, whether it is in Clinical Psychology or Counseling. The Ph.D. is more research-oriented than most psychology degrees.
Psy.D.--Doctor of Psychology. A relatively recent offering, this is like the Ph.D., but with an emphasis on clinical work.
Ed.D--Doctor of Education. This degree has a heavy emphasis on research with practical benefits.
MFT--Marriage and Family Therapist. This degree allows the therapist to treat families, adults, and children.
LPCC--Licensed Professional Clinical Counselor. This degree allows the therapist to provide mental health counseling to couples or families.
Questions To Ask Your Potential Therapist
I often say that very little should be accomplished in the first session--it's a trial run to determine if this relationship will work. Some questions you may want to ask are:
What are your qualifications to be a therapist?
What experience do you have in treating my disorder?
What is your specialization?
What do you believe about mental illness?
What do you believe about my disorder?
What is your education level?
What kind of training do you have?
If you don't know, ask! Don't make my mistake and assume that just because someone is a counselor, it makes them qualified to treat you.
APA Reference
Oberg, B. (2013, July 9). Buyer-Beware Therapy: Why You Should Know Your Therapist's Qualifications, HealthyPlace. Retrieved on 2023, October 4 from https://www.healthyplace.com/blogs/borderline/2013/07/buyer-beware-therapy-why-you-should-know-your-therapists-qualifications
Author: Becky Oberg
Hello, I concur with the general advice noted above about seeking information about the credentials of any helper. Two comments:
1. This is sound general advice, and to add to Monica's comment above, the years of education, training, and the degree alone don't always translate into an effective therapist or good fit. I would be more inclined to say that these are the minimum credentials one should be seeking. The "gut" feel and fit are additional qualities one should seek. Professional reputation, such as feedback from other professionals, and peers, as well as other patients. I also would add that the training and experience required to work effectively with BPD should be a high standard. It is a complicated and confusing condition requiring a sophisticated and highly skilled therapist.
2. This is a comment and request. Please add M.D. /Psychiatrist to your list. Psychiatrists are among the most extensively trained and highly qualified professionals to treat BPD. While it is true (especially in recent decades) that an increasingly higher proportion of psychiatrists focus more on pharmacological treatments, many of us still spend the majority of our time providing psychotherapy, including with severe personality-disordered patients. Thank you for considering this.
Douglas Beech, MD
I must agree and disagree with you on this. Just because he/she does has letters after their name does not make them any better, in some cases. I think it comes down to trusting your gut with how you feel about the person sitting across from you when you are spilling your life story. Does this person really care and have empathy when you are talking, or does he or she seem preoccupied and is only in it for the money.
Thanks
Leave a reply