Credibility and BPD: The Assumption of Lying
I recently re-read parts of my journal that I kept while I was in the state hospital system. One recurring theme is the assumption that I was lying. This often impacted my treatment, and often impacts the treatment of other people with borderline personality disorder (BPD).
The presumption of guilt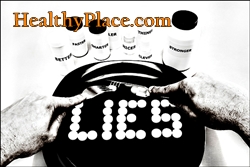 "Some theorists argue that patients with BPD often lie," reads a Wikipedia entry. "However, others write that they have rarely seen lying among patients with BPD in clinical practice. Regardless, lying is not one of the diagnostic criteria for BPD."
So how does this assumption affect people with BPD? Wikipedia continues: "The mistaken belief that lying is a distinguishing characteristic of BPD can impact the quality of care that people with this diagnosis receive in the legal and healthcare systems. For instance, Jean Goodwin relates an anecdote of a patient with multiple personality disorder, now called dissociative identity disorder, who suffered from pelvic pain due to traumatic events in her childhood.[127] Due to their disbelief in her accounts of these events, physicians diagnosed her with borderline personality disorder, reflecting a belief that lying is a key feature of BPD. Based upon her BPD diagnosis, the physicians then disregarded the patient's assertion that she was allergic to adhesive tape. The patient was in fact allergic to adhesive tape, which later caused complications in the surgery to relieve her pelvic pain."
I have my own experience with this presumption: my suicidal symptoms sometimes have not been taken seriously. When I was at Richmond State Hospital, I told multiple staff members I was suicidal, showed my therapist the note and told the staff I had plans. They assumed I was lying until I made an attempt. After that, there was no apology - just an explanation that they assumed I was lying to get attention.
Why people with BPD might lie
Psychology Today's website, reads "not all people with BPD or knowingly NPD, lie. It's just that those who do, lie so thoroughly and often that they spoil it for those who do not."
So why do those who lie do so? It's all about self-perception.
According to BPD Central, "In the essay 'Lies and Their Deception' in the same book, Lying, Cheating, and Carrying On, Clarence Watson, JD, MD pulls no punches when he says:
Given that a BPD hallmark is interpersonal relationships that alternate between idealization and devaluation, the person with BPD may distort facts aimed at the person with whom they desire a personal relationship. ... In the moment, their desired objective, whatever that may be, takes such precedence over speaking the truth or behaving honestly that the potential consequences of their conduct are reduced to shadowy details."
The site continues:
"People with BPD--especially the conventional type--may judge themselves harshly and expect others to do the same. Lying serves to deflect shame when something might make them look bad, thereby maintaining whatever self-esteem they have on a temporary basis. ... People with BPD believe that anything 'bad' would make others reject them. ... Lies may mask real feelings and put up an impressive façade; this is especially common with invisible BPs. Lies may help make sense of why things happen to them in their mixed-up identity."
In other words, some people with BPD lie to avoid abandonment or to avoid self-hatred.
Not all with BPD lie
I wrote in my journal: "I am many things, but I am not a liar." Mental health professionals should judge whether or not a person with BPD is lying based on that person's case history, not the diagnosis.
Based on my experience, very few people with BPD knowingly lie. Very few set out to intentionally deceive someone. But many people with BPD lie based on perceptions, what they believe to be the truth. A classic example is "He doesn't like me" when the person with BPD really means "I hate myself because I'm not like him."
What are your experiences with lying and the presumption of lying?