A Letter to the Birmingham Jail
Dear Dr. King:
I wonder what you'd think if you were here today. Things have improved, but there is still a long way to go.
Some of us--people of every race, religion and gender--still understand the pain and frustration you poignantly wrote about in your 'Letter from the Birmingham Jail'. Although our obstacles are on a smaller scale, we too know what it's like to be stuck 100 years behind the rest of the country. We face discrimination and hostility because of a psychiatric diagnosis.
[caption id="attachment_302" align="alignnone" width="170" caption="Dr. Martin Luther King, Jr., frequently risked jail time for using non-violent tactics to ensure equality for all people. For many people with serious mental illness, his dream remains a dream."]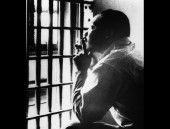 [/caption]
APA Reference
Oberg, B. (2011, January 17). A Letter to the Birmingham Jail, HealthyPlace. Retrieved on 2023, October 4 from https://www.healthyplace.com/blogs/borderline/2011/01/a-letter-to-the-birmingham-jail
Author: Becky Oberg