How to Avoid a Binge During Halloween Season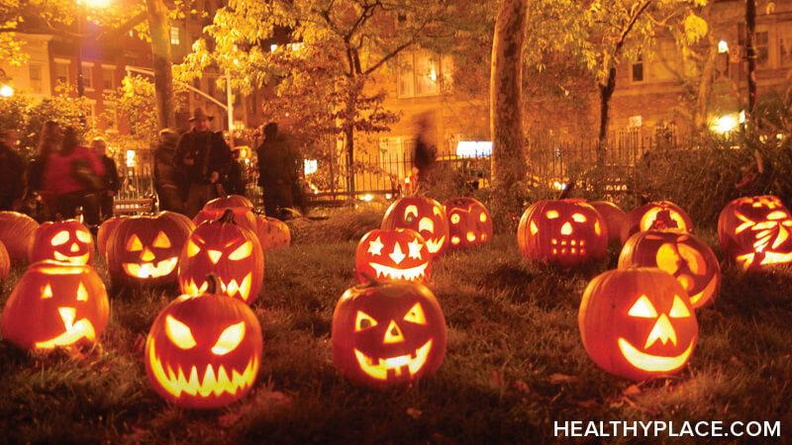 Halloween can make it extremely difficult to avoid a binge while dealing with binge eating disorder. This celebration is centered on a food which can, for many, be triggering: candy. However, it's absolutely possible to avoid a binge during this time. Let's enjoy this spooky, spirit-filled time without all the food worries this year.
Why Is It Tough to Avoid a Binge During Halloween?
Halloween seems to be the first in a long string of food-centric holidays that make it difficult to avoid a binge. This being the case, it can feel like if we "fail" to be on our "best" behavior for this celebration, we basically fall into a downward spiral until the New Year comes back around.
For me, Halloween involves what used to be my go-to binge food. This makes Halloween extra triggering for me. I can't seem to go anywhere without seeing candy and sweet treats all over the place. It's in these times I need to remember all the hard work I've done in binge eating disorder recovery and not to go overboard, and the gentle reminder makes it easier to avoid a binge.
Tips to Avoid a Binge During Halloween
The biggest piece of advice to avoid a binge at this time of year is be sure not to deprive yourself. Remember, treating yourself to some special treats is completely normal and is actually a totally healthy thing to do. The more we tell ourselves not to have something, the more we obsess about it until we inevitably overdo it.
Also, something I often suggest is if you are at an event that may involve some triggers that make it hard to avoid a binge, be sure to have a support person on hand. This can be someone who is with you or someone you are able to contact if things get overwhelming. As you can imagine, this allows for a certain level of comfort even if challenging emotions surface as you avoid a binge (Eating Disorder Support Groups and Where to Find Them).
I'd love to hear about your Halloween season and if you have any other tips for all of us out there working on recovery, so feel free to comment below.
Keep up all your hard work. Everything you're doing is bringing you closer to a life of freedom from your eating disorder.
APA Reference
Bialka, G. (2017, October 15). How to Avoid a Binge During Halloween Season, HealthyPlace. Retrieved on 2023, September 25 from https://www.healthyplace.com/blogs/bingeeatingrecovery/2017/10/how-to-avoid-a-binge-during-halloween-season
Author: Grace Bialka
Excellent read and very mindful tips. It's important to remember as we head into the holiday season these things that are seen as joyous events can really be huge triggers for people working with ED. Making a point to celebrate in healthful ways can be hugely impactful on those around you, often times, more than you may even realize.
Leave a reply