A Binge Eating Recovery Victory
I talk about a lot of sad things related to binge eating disorder on my blog, but this post is about a binge eating recovery victory. I turn 30 on September fifth, and I want to wear a dress for my birthday dinner. But not just any dress. A dress I've been waiting to wear for 6 years. And on September fifth, I'm going to wear it.
My Binge Eating Recovery Victory and My Dream Dress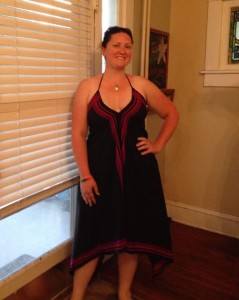 My binge eating recovery victory is all about a dress. In the summer of 2009 I purchased a dress. I absolutely loved the asymmetric skirt, the halter top, the daringly low back. I was brimming with confidence in the dressing room, but when it came time to wear the garment, I couldn't. I felt too self-conscious about my body. I was too scared to wear the dress out of the house, let alone on a night out.
Shortly after I purchased the dress, my binge eating disorder started to control my life, and I began my massive weight gain that left me over 100 pounds heavier in just over a year. The dress stayed in the back of my closet, hanging helplessly. I could have given it to the thrift shop, but something told me to hang on to it. I wanted to wear it one day.
How My Binge Eating Recovery Victory Lead Me To My Dream Dress
My binge eating recovery victory was a long and arduous road. In August of 2012 I had gastric sleeve weight loss surgery. By the surgery's three year anniversary, I lost over 100 pounds and ended up slimmer than before I had gained all of the excess weight. I tried on the dress last year and I mostly fit into it. But my breasts, which didn't proportionally lose weight with me, didn't fit.
I felt like crying after I realized that all of my weight loss still didn't get me into my dream dress. But this year, I financed my breast reduction surgery and was able to not only stop living in daily pain from oversized breasts, but I was also able to finally wear my dream dress.
What This Binge Eating Recovery Victory Means To Me
I've had a lot of binge eating recovery victories at this point in my recovery. But this one stands out to me. It sounds very simple. It's just a dress, right?
But it's not just a dress to me. It's a binge eating recovery victory because it took over 100 pounds of weight loss, two surgeries, and a lot of treatment to get me back into it. Without help in coping with my binge eating disorder, the expertise of my weight loss surgeon, the abilities of my binge eating disorders therapist, and a ton of determination on my part, this dress would still be sitting in my closet, like it has been since 2009.
I've had plenty of low points in my binge eating disorder journey. But something that I once thought impossible, fitting into my dream dress, just happened to me. This dress is not just a dress. For me, it's the symbol that I can do incredible things with the help of my support network and my resolve to always keep moving forward.
Find Star on Twitter, Google+, and on her personal blog.
APA Reference
LaBranche, S. (2015, September 3). A Binge Eating Recovery Victory, HealthyPlace. Retrieved on 2023, September 29 from https://www.healthyplace.com/blogs/bingeeatingrecovery/2015/09/a-binge-eating-recovery-victory
Author: Star LaBranche
Well done! I wish I had your strength and determination.
I used to have a beautiful classy red dress that hung in my closet for years. I'd always hoped to get into it but I eventually gave it away
Leave a reply