When Should You See a Doctor for Anxiety?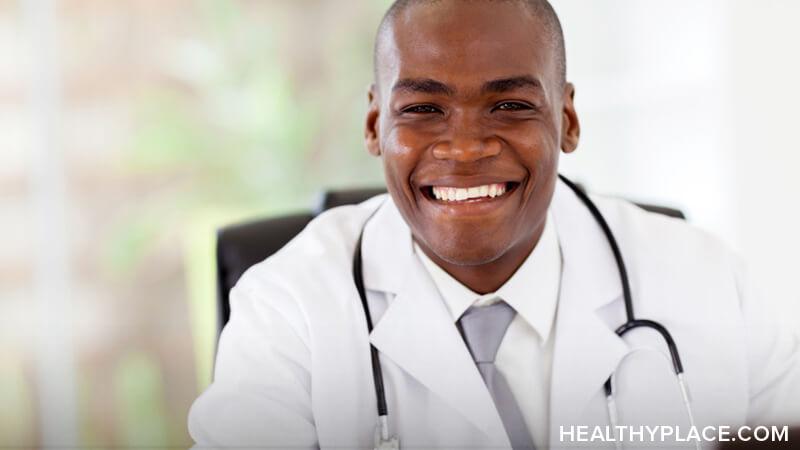 As life-disrupting and misery-creating as anxiety can be, it's often difficult to know when you should see a doctor about anxiety symptoms. Learning when you need anxiety help will help you feel more confident and less anxious about your decision. Use the following information to help you decide if and when you should see a doctor for anxiety.
If you worry about your anxiety symptoms and wonder if you should see a doctor, then maybe you also worry if seeing a doctor would be silly or pointless because maybe your anxiety isn't actually that bad. This type of worry is a common feature of anxiety known as meta-anxiety, or anxiety about your anxiety.
For those of us who have experienced it, meta-anxiety is not only obnoxious but can be paralyzing. Having anxiety about when you should see a doctor for anxiety can get in the way of treatment. There are times when a trip to the doctor to discuss your anxiety is a very good idea that can help you move forward past anxiety.
When Should You See Your Doctor for Anxiety Symptoms?
Whether you are experiencing anxiety symptoms for the first time or your existing symptoms are worsening, a trip to the doctor is important. Whenever you have new or worsening symptoms regarding anything, a check-up is in order. You'll establish a baseline that will be used to measure progress or regression.
You should see a doctor for anxiety, especially generalized anxiety disorder and panic disorder symptoms or the experience of panic attacks, to rule out underlying causes of your anxiety. Many medical conditions either mimic anxiety or have anxiety as a symptom and need to be treated directly.
Checking in with him/her about over-the-counter medicines and herbal treatments for anxiety can help you get to the bottom of the problem. According to WebMD, some of these supplements contain chemicals that worsen anxiety symptoms.1
You should see your doctor for anxiety if you feel that it has taken over your life and is negatively affecting your thoughts, feelings, and actions. A visit to your doctor about what is happening is important to get anxiety treatment recommendations. He/she might talk to you about medication and give you a prescription, and/or might refer you to a reputable therapist or psychologist who specializes in anxiety disorders.
Always see your doctor, or go straight to the emergency department of your local hospital, if you are having suicidal thoughts.
Where Should You Start When You Need to See a Doctor for Anxiety?
Your general doctor can be an asset in your anxiety treatment. While these practitioners don't specialize in psychiatric disorders, they are versed in the Diagnostic and Statistical Manual of Mental Disorders, Fifth Edition (DSM-5). Anxiety is common, and doctors, in general, know how to begin treatment.
Doctors aren't psychotherapists or counselors, however, and will stick to the physical symptoms and medical aspects of anxiety. They are in a position to know of community resources plus can give you a referral to a psychiatrist, psychologist, or therapist if you'd like one.
When you see your doctor about your anxiety symptoms, you will be taking an important step in getting back your life. Anxiety and meta-anxiety won't forever be in the way of happiness and your ability to thrive.
In the below video, I discuss meta-anxiety. I invite you to tune in.
APA Reference
Peterson, T. (2017, October 25). When Should You See a Doctor for Anxiety?, HealthyPlace. Retrieved on 2023, December 10 from https://www.healthyplace.com/blogs/anxiety-schmanxiety/2017/10/when-to-see-your-doctor-about-your-anxiety-symptoms
Author: Tanya J. Peterson, MS, NCC, DAIS
I keep waking up in the morning with an overwhelming sense of dread. It makes me nauseous and I often throw up in the mornings because of this feeling. My mind will wake me up in the early hours of the morning, worrying, and it prevents me from sleeping well. I feel like crying in the mornings. I think it's related to my stressful job, and I just keep telling myself to just push through, but it keeps happening - almost every morning for a couple mo this now. I feel stupid because I think it's related to my job, and that's a situation that I'm choosing to be in, but I wish it didnt make me feel this way. Should I seek another job or should I go to the doctor? I dont want to wake up feeling like I want to cry, it's a horrible way to start my day and sometimes prevents me from being able to get started with me day when I want to.
I have been experiencing panic attacks for years and nothing seems to work. I now have them almost daily and they are so severe that I have to lie down to get them to go away. They come upon me suddenly, even when I am not stressed or panicked in any way. Not sure what is going on. Went to the doctor who just wants to treat me with drugs which frightens me as I do not want to get addicted or reliant on them.
I have been anxious for the past 3 weeks and this makes me up all night. I can't sleep for and stay asleep. I think it's affecting my work and daily routine
hi,
i think my friend is facing this issue. but he is on extrime level. he can't reply on anything at present time. he self harm hinself i think 2 times. and start crying with no reason. kindly suggest should i take him to doctor or any meditation required
Hi I think I'm having anxiety issues. I'm not sure about it. But I've done a whole lot of study on the internet to find out about its symptoms and all the online tests I've taken show either Chronic Depression or Severe Anxiety.
I took the Goldberg Depression test online which scored me 94%.
I self harm to avoid the suicidal tendencies. And I'm constantly anxious about anything and everything I do.
Can you help me by telling whether the online tests by standard websites reliable or not?
I've had anxiety for a lot of years but recently its really started to take over my life. I always think of going to the doctors but just getting out the house these days puts me into a massive attack of anxiety that I can't deal with at times. I can't sleep for anything more than an hour or two, my breathing and heart rate feels constantly increased, shakes/muscle twitching, i can't switch off off/relax at all and the dreaded panic attacks.
It sure was nice when you said that if the person ever feels like their anxiety feelings are getting worse, it is best to consult a doctor so that the progress can be monitored. If so, then I will start looking for a doctor to help my little sister out since she has been showing signs of anxiety for a while now. I am not sure if her condition worsened, but I know that it is affecting her, so she needs help. Thank you for sharing.
Yes Abbie doctor talk axison worrying sick
hello, so im not quite sure if what im expieriencing is anxiety, i think it is but im not sure. all i can do is explain what ive been experiencing and maybe you can give me some insight or tips on what i should do.
im 21 years old, often randomly i have diarrhea & my stomach hurts, i feel nausea, butterflies. this happens randomly and normally seems to happen when im going somewhere or doing something other than sitting at home.
ive been noticing my appetite has decreased and i dont eat much in the day and when i do its a poor meal, i crave sweets all the time. i also feel tired alot and just out of energy when i get up and sometimes just checking the mail makes me out of energy yet i dont sleep til 4am & wake up around noon.
i often think about events that havent happened yet or things im doing the next day and i start feeling sick to my stomach? not bad but just enough to make me feel uneasy.
i also have never went out on dates or went out with any friends ever in my entire life.
i also dont have a job other than working with family or a license. its not that i dont want these things i do!! i just cant seem to do them?! im not sure what is wrong or if im imagining somethings wrong but what do you think?
Hi Ms. Peterson,
If you don't mind, could I ask you about something. I've always had anxiety, ever since a child, but I've never asked a doctor about it. I guess as a guy, I've always felt a since of shame because I felt it was a weakness. And my anxiety is only triggered with big life changes--for example when I went to university and moved in the first week was Hell. Usually I can come out of it within a couple days to a week, longest spell was on and off for three months once. But my main symptoms are I can't eat, my chest and throat are tight and my heart is racing along with my mind replaying the same worries over and over, so when I try to eat sometimes it just doesn't want to stay down. And I can go days with just a couple hundred calories each day which just makes everything else feel worse. It's a cycle really. My anxiety has been really good but I'm currently stressed about beginning grad. school and I just don't want to go through this cycle until I get adjusted. Do you think a doctor would help me?
I am a Asian and I struggling about my sexuality. It is a big deal in Asian. I feel symptoms from panick attack. I don't know what to do. I can't tell a general doctor everything and the doctor thinks I want attention. But I can't explain her because I don't trust her. I am thinking about seeing a psychiatrist but I don't know should I see. Should I?
My husband has anxiety, and I really think he should talk to a doctor about it. I think he is experiencing what you described as "meta-anxiety" because talking about making an appointment makes it worse for him. I'll have to look for a good doctor in our area that he would feel comfortable talking about this with.
Thank you for mentioning that when a person starts feeling the signs of anxiety or feel that their symptoms are worsening, they should immediately see a doctor. I am aware that my little sister has been suffering from sudden feelings of anxiety when she was younger, though the feelings are manageable. The problem is that it seems to be starting to affect even her job. That is why I think it is best for her to see a professional.
Leave a reply