About Julia Banim, Author of 'Anxiety-Schmanxiety'
Hi, my name is Julia Banim and I'm the new co-author of Anxiety-Schmanxiety. I'm a journalist based in Manchester, England. Reading and writing have long been a quiet refuge for me from the social situations that, admittedly, have never come too easily (What Is Social Anxiety Disorder [Social Phobia]?). Journalism, therefore, always felt like a natural career path for me.
I believe that writers should always strive to cover issues that are of personal significance to them. For me, this is anxiety, with all its messiness, humiliations and excessive worrying. I know how it feels to be wound tight as a spring for days, weeks, or months on end. I know how it feels to not realise how loud and fast you are breathing, how tightly you are clenching your fists, until the person next to you on the train looks at you with concern (Can People Without a Mental Illness Understand Us?).
Julia Banim and Writing about Anxiety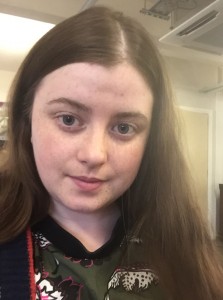 A couple of years ago, I would have been completely mortified at the prospect of writing a blog about my anxiety. Like so many others, I very wrongly felt that my anxiety symptoms somehow reflected negatively on my character. I hid behind a series of carefully constructed personalities, hoping and praying that I would at least appear to fit in.
I masked my frequent nervous tics and twitches behind coughs that fooled no one. I would smile stiffly for photographs at parties where the large volume of people rendered me trembling and completely wordless. What I have learnt from this is that putting on a front is rarely, if ever, beneficial for your health and wellbeing. The best first step is of course honesty and understanding which is how I intend to write my blog (To Combat Stigma, Take Off Your Mask).
People with anxiety can and do go on to achieve incredible things, as demonstrated by the wonderful bloggers on this site. I am truly excited to begin my blogging journey with HealthyPlace and sincerely hope that you will find my writing to be informative and interesting. I look forward to sharing and chatting with you.
More about Julia Banim
Find Julia on Facebook, Twitter, Google+, LinkedIn and at her blog.
APA Reference
Banim, J. (2015, October 13). About Julia Banim, Author of 'Anxiety-Schmanxiety', HealthyPlace. Retrieved on 2019, September 15 from https://www.healthyplace.com/blogs/anxiety-schmanxiety/2015/10/about-julia-banim
Author: Julia Banim