Anxiety Disorders and Confrontation: What You Need to Know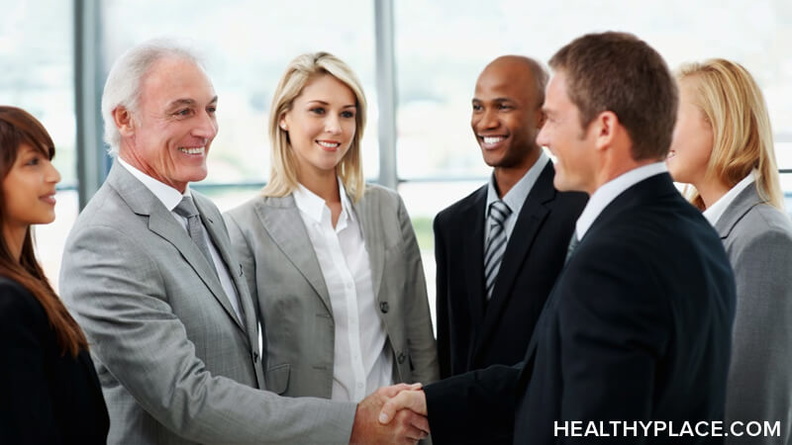 When people know my diagnosis of bipolar and anxiety disorders — and given my line of work, most do — they tend to assign all of my actions to said diagnosis. Confrontation and disagreement, as an example, turn into signs that I am escalating to a manic state state or having an anxiety or panic attack. But anxiety disorder and confrontation don't exactly go hand in and hand.
What You Don't Know about Anxiety Disorders and Confrontation
I have found that people think being confrontational is easier for me than other people because I have mental illness (What Is Stigma?). Society, as a whole, sees disagreement and confrontation as aggressive. They see them as the verbal equivalent of fighting and, certainly, as the escalating step before physical violence.
What leads them to this conclusion is what people don't know about anxiety disorders. The stereotype of the mentally ill being mere steps away from violence contributes to this, but people also seem to think that aggressive behavior in any form is just comes naturally for the mentally ill. We are often seen as self-absorbed and unable to comprehend another person's feelings.
What to Know About Anxiety Disorders and Confrontation
What people should know about people with anxiety disorders is that confrontation, debate, and disagreement are some of the most difficult life skills I've had to learn. I may have become good at confrontation, if that is a measurable skill, but I do not enjoy it. In fact, I used to avoid confrontation by any means necessary.
In school, I was bullied for many reasons, but I never fought back. I was scared, timid, and just wanted the confrontation to stop. My classmates would taunt me and I wouldn't say a word in my defense. I would sit there and provide no resistance whatsoever.
When I reached adulthood, I discovered that the schoolyard bully existed as a workplace bully and in many other forms. Aggressive coworkers, manipulative customers, and angry competitors all poured into my office looking to take advantage where they could. Any ground lost by me was gained by them.
The thought of having a panic attack over a confrontation was too great a risk, so I seldom fought back. My fear of this is so great that I sometimes have a panic or anxiety attack if someone doesn't answer the phone when I call.
My Anxiety Disorder Doesn't Teach Confrontation Skills
I had to learn how to stand up for myself and for others. It does not come naturally. Confrontation was a skill I had to learn. In fact, it is very difficult. To this day, I have to take a deep breath before a confrontation starts and often will have an anxiety attack when I "come down" from the situation.
Being able to stand up for what I believe in is important and being able to set boundaries with others is equally important. I would much rather give everyone what they want, never say no, and always give in. This, however, will not make me happy.
Anxiety disorders make it more difficult to be involved in conflict. But through therapy, medication, and practice, I have learned to be more assertive. I value these skills and I often chuckle at the idea that people think it comes naturally for me, when in reality it was anything but easy.
You can find Gabe on Facebook, Twitter, Google+, LinkedIn, and his website.
APA Reference
Howard, G. (2014, May 21). Anxiety Disorders and Confrontation: What You Need to Know, HealthyPlace. Retrieved on 2023, December 10 from https://www.healthyplace.com/blogs/anxiety-schmanxiety/2014/05/anxiety-disorder-and-confrontation
Author: Gabe Howard
I found this chat room because this week I confronted my sister In law. She is married to my brother's husband. My in laws have been renting them their income property for 5 yrs and charging them $500 less a month of what the values of the property home is. Meaning they been saving $20,000 dlls so far.
Now they just got a baby and also want free baby sitter meaning my mother in law. My in laws are 71 and 75! My father in law is so financial stress, looking to get a loan to replace the roof and now has even started to do some work in the roof, paying someone and him too getting on top of the roof. He already had fallen of a roof back in 2011 and one more fall will be horrible.
I confronted my sister in law and told her to stop abusing them. I heard from my mother in law that his son wants them to give them that house but is not right because my in laws are in a pension with a fixed budget.
After telling her off that their are olderly people, that they shouldn't depend on them. (Seriously my brother in law talks about retiring early and buying a Tesla) they both have degrees. Is so annoying how they don't see how much they are taking advantage of them.
I have been diagnosed with anxiety since 6 yrs ago, ended in hospitals from panic attacks. I been feeling uncomfortable about this, I even told my husband i want to avoid his brother and sister in law for a while because they trigger me.
After a period of depression I have been left with a fear of confrontation as it starts a feeling of anxiety and my brain for lack of words seems fogged. When I have this anxiety I just need to be quiet, walk away and not discuss my feelings. This annoys my wife but if I carry on I begin to shout. I tend to keep to friends that have a quiet nature and do not focus on the negatives in life. Exercise is a great help as I can block out any negative thoughts during the process. I used to be able to deal with most situations easily but now I find it difficult especially something that needs a firm approach. I cannot relate any of this to bullying but I think it was due to working with a company that did not deal with a stress issue I had. The HR department did put in plans to deal with it but never kept to it. This meant I had to retire early. I am open to find other ways of dealing with my problem
My sister is extremely confrontational and as a result I am the opposite. I have GAD and depression and I had a confrontation with a neighbor about the way she spoke to my children and she obviously was a stronger person than me....she won I walked away and cried for 1 hour after! I try to stand up mainly for my kids to show them not to let people treat you badly but then they see me crying after so should I have bother? 🤷🏻‍♀️
What do you do with a partner who won't have a conversation with you that MIGHT lead to a confrontation or debate? It's frustrating as hell and I'm ready to give up!!
Lexapro has helped me stick up for myself but I'm afraid that I might escalate to hurt someone. I'd rather find a newer drug to calm my confrontational feelings that sometimes appear. I'm GAD and OCD and taking 20 mg of lexapro a day.
Lexapro has helped me stick up for myself but I'm afraid that I might escalate to hurt someone. I'd rather find a newer drug to calm my confrontational feelings that sometimes appear. I'm GAD and OCD and taking 20 mg of lexapro a day.
I diagnosed with bipolar disorder with PTSD, ocd, symptoms. Meditation is my only outlet. Thanks for this website and ability to express my feelings
I barely leave the house due to my "phobia" of confrontation. Any form of anger directed at me sends me on a downward spiral of self loathing. This is due to bullying at home and at school when I was younger and in the workplace. Im extreamly socially awkward these days and most people think i am a weirdo because of how awkward I can be and "soft" because of how I never stand up for myself. Ive been having therepy since I was 16 (am now 24) but things just seem like they will never change for me. I really have no idea how to stand up for myself and to not almost have a meltdown because somone insulted me. I have no idea what to do anymore.
Hi guys
When I get confrontation my heart rate rise dramatically then my body trembles my speech gets worse ....
I feel like to walk away because I'm not calm and can't figure out to calm myself down.
Even to think about it makes me nervous and anxious.
I am so happy that I found your post. I recently started disagreeing in school debate and speak out my opinion and beliefs. However after i do that i often felt so down, detached and anxious. I didnt know what happened to me and now i understand it maybe is a anxiety/ panic attack related to confronting. It must have been so difficult for you to work through your disorder. You ahve done amazing work to be able to speak out and assert your needs. It is sad how many people only see the fruit and dont understand the hardwork in growing the tree. Well whatever it is you have done great work and abd thanks for sharing your experience here.
Confrontation terrifies me. I grew up in a verbally abusive home, and was bullied daily, both at school and in the neighborhood I grew up in. What's so funny about that is that I didn't get this way until about 10 years ago. I was also diagnosed with PTSD 10 years ago. I was diagnosed with social anxiety 16 years ago. I am now on medicine, and in the process of working becoming more assertive. It's just so difficult, because the times when I know something is wrong and I should stand up for myself my stomach turns into knots, and so I'll just stay quiet and walk away. It's like living in a constant nightmare I wish I could wake up from
Being in the pshycological field its my job to teach people to be asertive..but meanwhile back at the ranch I am also bipolar with angxiety disorder...and a woman on top of it all.
Back at the ranch I find that when ever I am asertive..it boils down toe being labled as mad and people labeling me...
I am a highly intelegent woman with values and sound set boundarys....let them label me..I don't care...my bounderys is my safe haven and I won't tolerate people sweeping the floor with me but more than often I allow exactly that. This results in arguments witch I hate..
You're lucky you're a man and that it's acceptable to even make more than a peep in the first place. Women are definitely not supposed to be confrontational. They're all supposed to be quiet, keep their mouths shut, and get on with it. As an older chick with bipolar, anxiety disorder, and PTSD, I say f*** that. That is what lead to my backstabbing and eventual inability to work. Toward the end, I began to speak up for myself, and I was "punished" for it. Gave me bad anxiety attacks, I could no longer work. I admit to quitting on a manageable manic upswing and flying to Europe that summer. :) I don't regret leaving them in a mess.
Leave a reply