Why Group Therapy is Great for Social Anxiety
I remember my first experience with group therapy. While enrolled in a day program – the next step in the treatment process after a brief hospitalization – I reluctantly sat down with a therapist along with a handful of individuals also struggling with social anxiety disorder, among other mental health ailments.
Five days a week, the therapist reinforced the role of cognitive behavioral therapy - to help us change our thoughts and perceptions. (Social Anxiety Treatment) Among the most common statements shared with the group included "we are in a safe place now" and "how did that make you feel?"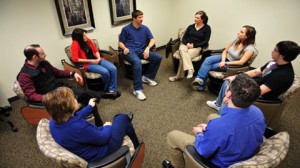 But if there is one thing about group therapy that helped me the most – more than learning about social anxiety disorder and its accompanied coping strategies – it was simply that group therapy forced me to interact with others. As a person dealing with a debilitating fear of social situations, I certainly appreciated the opportunity to practice the art of human interaction. After only a few sessions, I noticed myself becoming more relaxed and better able to deal with the social anxiety disorder symptoms I struggled with the most.
Group Therapy vs. Individual Therapy for Social Anxiety
I also started to compare the benefits of group therapy with individual therapy. Meeting with a therapist in a one-on-one situation, I only talked about my social anxiety disorder. In group therapy, my greatest fear (social interaction) was right there in front of me. The difference for me was the ability to put social interaction into practice, rather than simply learn from a therapist how I could become better at it.
The Cliches Are True!
There are plenty of cliché statements to ponder - such as "face your fears", "practice makes perfect" or even "practice makes progress" – but these all seem totally relevant to my social anxiety. In group therapy, I gained a unique opportunity to test the social waters without diving in completely (for lack of a better analogy). While merely contemplating social interaction gave me more anxiety, practicing it gave me confidence. Confidence is something you can build upon. Anxiety is just something that builds inside of you.
The Comfort Factor
Finally, group therapy provided me the comfort I needed to open up about my social anxiety disorder. With a licensed therapist and group of fellow anxious introverts (as I like to call them) by your side, you learn pretty quickly that everyone in the room knows what you're going through. This truly opens the doors to social interaction without any of the stigma, fear, intimidation and anxiety we tend to find in "normal" social situations.
Needless to say, I highly recommend group cognitive therapy for anyone with social anxiety disorder. I would love to hear about your own personal experience with group therapy and how it helped you better cope with social anxiety. As always, feel free to share your thoughts in the comments below.
More Social Anxiety Information
You can also find Anthony D'Aconti on Google+, Facebook, Twitter
and his website, Breathe Into the Bag.
APA Reference
D'Aconti, A. (2013, December 4). Why Group Therapy is Great for Social Anxiety, HealthyPlace. Retrieved on 2023, December 2 from https://www.healthyplace.com/blogs/anxiety-schmanxiety/2013/12/why-group-therapy-is-great-for-social-anxiety
Author: Anthony D'Aconti
would like to apply for holding groups with clients in recovery
Hi lindawhite,
Thank you for coming to HealthyPlace/Anxiety-Schmanxiety. It's great that you are interested in groups for clients. Healthy Place, though, is a forum for information and discussion so is not a place where people can apply for such things. We don't have programs to apply for, but we do have community exchanges and articles providing information. Perhaps you might find this a good resource to pass along to your clients.
Leave a reply