Ease Anxiety In Nature
Do you look to nature to ease your anxiety? If not, please try it!
Forest Bathing
Recently it has been all over the internet how Japanese scientists have discovered that the scent of trees, the sound of brooks, and the feel of sunshine have a calming effect. Japanese engage in an activity they call shinrin-yoku, "forest bathing." And we can all do this.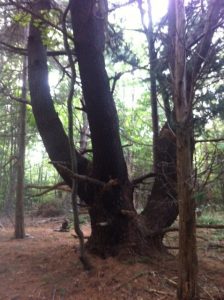 All you have to do is spend some time communing with nature. Talk a walk in the woods, sit on a rock, gaze at a body of water, rest in the garden, and more.
I have not done empirical research in this, but I and many of my clients have been my case studies on the subject. We all attest to the healing abilities of nature, and for that reason also assume that lack of time in nature creates higher levels of anxiety and stress.
Rest your weary soul
So many times anxiety makes us feel separate, different, and isolated. But when we spend time touching trees, looking at light reflected off branches as it comes through the forest canopy, smelling fresh fallen leaves; we feel happy....a connection. This directly counters anxiety. We experience the greatest of the earth and the immenseness of it. It is bigger than us, and it survives. We learn that we are not alone, and we can survive too.
As nature changes and regrowth happens, we understand that death is transient, bad things pass, worries pass. Everything keeps changing and growing.
Please try it today, even if it just touching and staring at a leaf on your house plant, or playing with drops of water on your hands. But preferably, go outside to experience nature. Smell it, feel it, touch it, look at the patterns on it. And breathe. See what happens to your anxiety...
Come back after you try and leave me a comment about how it went!
By Jodi Lobozzo Aman
I blog here: Heal Now and Forever Be In Peace
and here: Anxiety-Schmanxiety Blog,
share here: Twitter@JodiAman, Google+
inspire here: Facebook: Heal Now and Forever Be in Peace,
Get my free E-book: What Is UP In Your DOWN? Being Grateful in 7 Easy Steps.
APA Reference
LCSW-R, J. (2012, August 29). Ease Anxiety In Nature, HealthyPlace. Retrieved on 2019, August 22 from https://www.healthyplace.com/blogs/anxiety-schmanxiety/2012/08/ease-anxiety-in-nature
Author: Jodi Lobozzo Aman, LCSW-R