A Tip to Help Social Anxiety: Observe People (Video)
When you are out in public, does social anxiety (aka social phobia) have you worried and stressed? Inside this video is a tip to help turn around the social anxiety. It's a skill you readily know and can do, no matter what your comfort zone might be. Observe people.
Managing Social Anxiety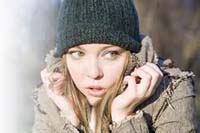 You don't need complex social anxiety treatment for this. This social phobia help tip is simple. Watch the people around you, look at their faces, guess what they are thinking.
Many times, with social anxiety, our minds tell us how bad and uncomfortable we are, and how everyone is judging us. But are they? We don't even see people's faces. Watch the video for more explanation.


Tell me if you ever tried this! What happened?
By Jodi Lobozzo Aman
I blog here: Heal Now and Forever Be In Peace
and here: Anxiety-Schmanxiety Blog,
share here: Twitter@JodiAman, Google+
inspire here: Facebook: Heal Now and Forever Be in Peace,
Get my free E-book: What Is UP In Your DOWN? Being Grateful in 7 Easy Steps.
APA Reference
Lobozzo, J. (2012, March 17). A Tip to Help Social Anxiety: Observe People (Video), HealthyPlace. Retrieved on 2023, December 3 from https://www.healthyplace.com/blogs/anxiety-schmanxiety/2012/03/a-tip-to-help-social-anxiety-observe-people
Author: Jodi Lobozzo Aman, LCSW-R
Great video. Great advice. Thank you!!
[...] A Tip to Help Social Anxiety: Observe People [...]
Just saw it now. Thank you <3
HI Nikky! Hope you liked it!
This is a good video. Have you ever tried EFT (emotional Freedom Technique) to get over these anxieties? I have had agoraphobia for 30 years and many types of therapies. I found EFT and it changed my life. I now have the tools for panic, anxiety and all kinds of feelings I used to push down. I finally love myself. It has been a miracle. Thanks for listening. Jean
Thank you Jean Maurie, I have tried it! With great success. It is so interesting how things work for some people and others things work for others. Perhaps it is a readiness to embrace being healed and getting better. A belief that it is possible and a trust in the provider and yourself. I should sometime list all the possible therapist next week!
Yes Jodi, It is interesting how some therapies work for some and others not so much. I've been through a lot of them and each helped to a degree. I'm learning that I am very sensitive and because of what I do, it is a gift.
I know some hypnotherapists who have given up their hypnotherapy practice and moved into EFT because it is so much faster.
Jean Maurie
Leave a reply