Anxiety Overlooked, Under Recognized Component of Mood Disorders in Women
Anxiety symptoms are an overlooked component of mood disorders in women, especially mood disorders in women of reproductive age.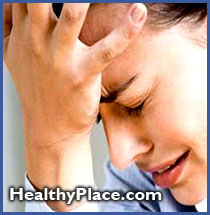 Increasingly, mood disorders are becoming well-defined and recognized among patients and healthcare providers. However, these conditions are relegated to being connected to ovarian activity (i.e., premenstrual, post-partum or menopausal) and thus hormonally dominated. Missing from the wealth of understanding is the fact that anxiety symptoms are an important and overlooked component of each of these disorders, according to data presented today at the Anxiety Disorders Association of America's 23rd annual meeting here.
"Great strides have been made in understanding the personal impact of the menstrual cycle and its related symptoms," said Ellen W. Freeman, PhD, Hospital of the University of Pennsylvania, Philadelphia, PA. "Yet, more still must be done in order to properly diagnose and treat these women so as to significantly reduce the potentially serious cascade of interrelated disorders."
Mood disorders in women of reproductive age include premenstrual dysphoric disorder (PMDD), post-partum depression and anxiety associated with menopause. The majority of women will experience some minor premenstrual complaints. PMDD, in contrast, is less prevalent but associated with more severe symptoms of anxiety and depression. And, PMDD has a significant disabling effect on work performance and interpersonal relationships. Post-partum disorders, left untreated, can be associated with life-threatening consequences for the mother, infant and family.
Entering menopause is one of the more turbulent periods of transition for many women. During this time, the recurrence of anxiety disorders or the onset of significant anxiety and insomnia can negatively affect a patient's outcome. Not surprisingly, hot flashes are the most common reason women seek medical treatment during this time. Often times, the presence of hot flashes in and of itself is a cause for high levels of anxiety in mid-life women.
"Studies have shown that women with a history of anxiety disorders may be at increased risk during their reproductive years," Dr. Freeman added. Early treatment of symptoms, particularly for women who are at increased risk, may reduce the health costs of these disorders.
To help address the fact that anxiety is often overlooked and under recognized by women and their physicians, the ADAA announced the launch of the "ADAA Women's Initiative." The campaign is designed to reach out to women of all ages and their families to educate them about anxiety disorders and to encourage them to talk with a health professional if they are experiencing anxiety disorder symptoms.
Source: ADAA Press Release, March 2003
next: Are Women at Greater Risk for PTSD Than Men
~ anxiety-panic library articles
~ all anxiety disorders articles
APA Reference
Staff, H. (2003, March 1). Anxiety Overlooked, Under Recognized Component of Mood Disorders in Women, HealthyPlace. Retrieved on 2023, December 8 from https://www.healthyplace.com/anxiety-panic/articles/anxiety-overlooked-under-recognized-component-of-mood-disorders-in-women
Last Updated: July 2, 2016