Coming Out Of My Mental Health Closet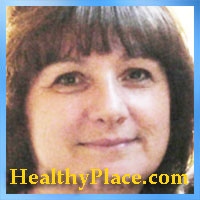 My name: Connie Walcott
Age: 56
Diagnosis: Bipolar, PTSD, DID
Symptoms since: 5th grade. (age 10)
Publicly sharing my experiences with mental illness and homelessness has been one of the most empowering steps I have taken on the long road to personal recovery.
I first began to write about my conflict with religion and psychiatry and their impact on my spiritual beliefs. Blogging led me to Squidoo, where I discovered stories of others whose lives had been shattered by difficult life circumstances.
I would often weep as I read the stories that were shared; but it was the responses that evoked the most powerful and overwhelming emotions. Comments and feedback were overwhelmingly encouraging and supportive and I often sobbed as I yearned for that same validation and approval.
The fact that people were applauded for their courage to tell their stories gave me a new perspective about my own story.
Sharing my thoughts in an online community brought responses from others who understood my emotional conflict. I soon began to share more openly about my challenges. My tipping point came when I discovered a lens about Dissociative Identity Disorder (DID), which uncovered a deep desire to address the topic from my personal perspective.
I have recently built the blog where I am now sharing the fullness of my struggles with bipolar, DID, PTSD, as well as my dreams to help address these issues on a national level.
Disclosing Mental Illness Increased My Self-Worth
The disclosure and discussion of these topics has had a tremendous impact on my sense of self-worth and I face each new day with excitement and gratitude. I have found my voice and the ability to speak out about the importance of behavioral health care, especially in the faith-based community.
I now feel valued and respected; and am beginning to have opportunities to engage in the advocacy that continues to validate the value of my experiences.
The decision to share your story publicly is a very personal choice, but I have found a deep sense of purpose since I have begun to share my own story.
I am thankful for the health care that has helped restore my joy, my peace of mind and the ability to embrace each new day as a precious gift from God. I have dealt with the symptoms of mental illness for more than fifty years; but my life has finally become an adventure in joyous living.
Recovery has been a long and difficult journey, but it has most certainly been worth the trip!
Connie Walcott's blog: God's Grace Notes
next: Coming Out With Depression and Anxiety
~ all standing up to mental health stigma stories
~ join campaign-campaign buttons
~ all stand up for mental health articles
APA Reference
Staff, H. (2015, January 30). Coming Out Of My Mental Health Closet, HealthyPlace. Retrieved on 2023, October 1 from https://www.healthyplace.com/stigma/stories/coming-out-of-my-mental-health-closet
Last Updated: June 1, 2015