Principles of Being
Austin Vickers, Guest Author
This is one of the most powerful, over-all affirmations I have ever had the opportunity to experience. Make reading it part of your daily routine. Believe it, change your behavior accordingly and your life will be forever transformed! Thank you, Austin, for this magnificent gift to the universe. - Larry James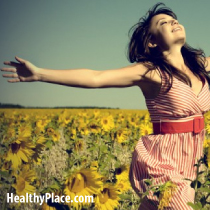 I acknowledge that every circumstance and relationship in my life is a direct or indirect result of choices I have made, or failed to make. I understand that I am the supreme creator of my life and everything in it, and I choose every day to accept my present circumstances and relationships exactly as they are, unless I am consciously acting to change them.
I believe that life is exactly as we choose to see it. All people, places and things can present both a negative and positive perspective. We, as observers, make the choice of which side we will focus upon. Because I want to fill my life with joy, I choose to recognize the positive in all things.
I will try to have every choice I make be consistent with the highest vision I have of myself. Rather than try to control or manipulate others to conform to my addictive behaviors or programming, I will allow others to simply be, and will learn to change my addictions into preferences. I know this is the only way I can be truly happy.
I know it is better to live my life without expectations or attachment to results. Although I may plan for the future, I must not become too attached to the fulfillment of those plans or I may miss other more fulfilling opportunities. If life takes me in a direction different than the one I have planned, I believe it is for my ultimate good.
I want to approach each and every moment of every day with the same level of enthusiasm, happiness, passion and present-moment focus as I have making love. Life and everything in it, like sex, is a wonderful experience that I know I must appreciate, using all of my senses to fully enjoy it.
---
---
Honesty is one of the single greatest principles in life, and I will approach every person, circumstance or situation with a commitment to be honest with myself, to openly and honestly present my true thoughts and feelings to others, and to never lie, deceive or mislead another person.
I believe in being sensitive, and before acting or reacting to any situation or person, I will try my best to act or react in a way that I would want to be treated under the same circumstances.
I cannot judge any person, situation or thing for I do not know all of the facts. My experience with anything is limited to my interaction with that person, situation or thing - and that is not the complete picture. Therefore, I cannot judge whether anything or anyone is good or bad, right or wrong. I also know I should not judge myself too harshly, for I am a learning, loving human being that can draw strength from my weaknesses and experiences.
I recognize that I can only view life through my own rose-colored glasses, and the beliefs, opinions or standards of any group or person, including my own beliefs, are not necessarily universal truths.
I have a thirst and love for knowledge and understanding, and I recognize that true learning and growth comes only from effort, experience and a willingness to accept some new ideas, even if it means the rejection of previously held beliefs.
I love living and I know that a healthy body is an essential part of maintaining the quality of my life experience. Consequently, I will exercise my body and will feed it with healthy air, food and drinks, I will heal it and rest it when necessary, and I will treat my body with loving care. I will touch others and smile at others often, for it is my true nature to be kind. I will also laugh a lot.
I believe in God, Spirit, or the Soul - whatever name we give to that power in the universe that exists beyond our obvious senses. Life becomes magical when we see the clues that spirit offers and I will strive to find them. I also know that inviting Spirit into my life allows me to make better choices than I would otherwise make, for it allows me to view life from the perspective of heaven.
I believe that each of us can contribute to the world in some unique way. For me it is to share with others the principles that I hold dear, in the hope that these principles will benefit others as much as they have given benefit to me. I am fulfilled and happy when I act in service to others.
The real purpose of life is love. Love is our very essence, the all which created us and is us. This day I will work to remove that which blocks my love from flowing freely. I will learn to love myself and I will liberally share my love with others. I will be kind, understanding and compassionate. I will make love a daily focus and priority in my life, and I will try to fill every moment of my life and yours with love. I will tell you how much I love you as often as I can.
These are my governing principles. I have not yet attained to them, but I am struggling to do it. I may not ever totally achieve them, but you may. So go on! Learn what you may from me, open your eyes with the light that I offer, but learn to walk for yourself. Don't be afraid - I am walking too . . . not behind you or in front of you, but beside you making my own way. As we walk along together we can look out for each other . . . help each other. I will be there for you . . . and you for me . . . and together we will realize our dreams.
Copyright © - Austin Vickers. All rights reserved. Reprinted with Permission. - Austin Vickers is a former trial lawyer and has represented numerous Fortune 500 companies. In September 2000, Austin resigned his position at the top of his career to pursue full-time his passion for changing people's lives. In January 2002, Austin released his first book, "Soul Matters;" an in-depth discussion of the principles that lead to deeper peace, enduring happiness, and transformational love. He has gone from "missionary to mercenary and back again" in his life path and is committed to what he believes are the most sacred ideals; "TLC for the Soul: Truth, Love and Courage." Austin currently writes, speaks and teaches these principles and others in the fields of spirituality, relationship dynamics, life strategy and management. www.AustinVickers.com.

NOTE: Clicking on the book cover or link below will take you to that book on Amazon.com where you will find the list price, the price you will pay, how many $$$ you will save, how fast you can get it and if you choose, you can add it to your shopping cart and purchase the book. Shopping online with Amazon.com is 100% safe. GUARANTEED.
Soul Matters - Austin Vickers - This book is about learning how to be who you really are, how to recreate yourself, and how to love in action and reaction to all things. In essence, it is the advocacy of a new model of thinking designed to create lasting happiness and a deeper understanding of the principles that enhance our experience of the soul. Soul Matters provides principles and solutions for dealing with the frailties of the human mind and experience, and helps guide the reader to develop "TLC for the Soul: Truth, Love & Courage."
APA Reference
Staff, H. (2008, December 25). Principles of Being, HealthyPlace. Retrieved on 2023, December 1 from https://www.healthyplace.com/relationships/celebrate-love/principles-of-being
Last Updated: May 22, 2015