Alzheimer's Links
In Honor of Mary N. Jarvis, Larry's Mother
Mary N. Jarvis, wife of Rev. O. E. "Jack" Jarvis and mother of Larry James and Carol Jean Pierce, died on March 6th, 1992 as a result of Alzheimer's disease. This page is dedicated to her.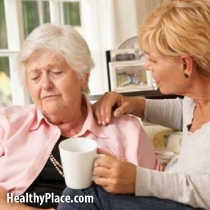 A story written to honor her memory was featured in the New York Times best-selling book, "A Second Helping of Chicken Soup for the Soul." The story appears on page sixteen of the book or you may read it here: "A Strawberry Malt and 3 Squeezes, Please!"
Alzheimer's Association - This site offers tips on care giving, updates on research and treatments and information on programs and services. Also links to Alzheimer's local chapters in your area.
www.Alzheimers.org - Sponsored by the National Institute on Aging (NIA), this site offers news on research and clinical trials and has a link to the Combined Health Information Database (CHID), a bibliographic service containing health education and information materials.
Alzheimer List - The ALZHEIMER page is an e-mail discussion group for families and professional caregivers, persons with the disease, researchers, policymakers, and anyone else interested in Alzheimer's or related disorders.

http://www.alzheimersupport.com/community/caregiverscorner/ - This informative, inspiring site is designed specifically for the caregivers of patients with Alzheimer's and other forms of dementia.
Caregiver Network - This site has information on home care, housing, medical issues, caregiving, and dementia.
www.Elderweb.com - An online sourcebook with more than 4,000 reviewed links to information about health, financing, housing, aging, and other issues related to care of the elderly.
---
---
Health Care Financing Administration - A government online resource for Medicare and Medicaid information.

Caregiving Magazine Online - Resources for caregivers, including tips, a stress test, caregiver diaries, and links to other caregiving sites, including several grief-related support sites.
Mortality from Alzheimer's Disease: An Update - A National Vital Statistics report from the Centers for Disease Control and Prevention. This report can be viewed only with Adobe Acrobat 3.0. Other statistical reports are also available from this website.
next: Store Homepage
APA Reference
Staff, H. (2009, January 1). Alzheimer's Links, HealthyPlace. Retrieved on 2023, December 11 from https://www.healthyplace.com/relationships/celebrate-love/alzheimers-links
Last Updated: June 12, 2015